Speech recognition helps East Kent streamline clinical documentation.
Speech recognition ends costly reliance on outsourcing clinical documentation.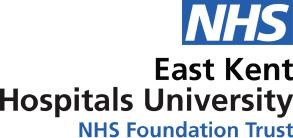 East Kent Hospitals University NHS Foundation Trust
Health sector pressures such as staff shortages, increased demand and regulation meant that clinical documentation processes at East Kent Hospitals University NHS Foundation Trust were coming under strain. The organisation serves more than 695,000 people across five hospitals and community clinics.
Download success story (pdf. Open a new window)

Learn more about Dragon Medical One
"
Dragon helps our clinical staff create a more accurate and complete record of patient consultations, and ultimately that will lead to better outcomes and experiences for the people we care for.
"
Andrew Barker, IT Director
East Kent Hospitals University NHS Foundation Trust
Due to a shortage of hospital admin support to help with clinical documentation transcription, East Kent Hospitals University NHS Foundation Trust needed to streamline processes, eradicating costly outsourcing while ensuring the production of accurate and detailed patient notes, to meet NHS seven-day turnaround guidelines.
AI-powered speech recognition software was introduced; an end-to-end solution creating accurate and detailed notes that integrate with electronic health records.
Around 80% of transcription workflow is now handled through speech recognition. This has provided financial savings as well as improved patient care. Predicted savings over five years are £2.3m and documentation turnaround times are an average of under five days. Instant documentation is leading to better communication with GPs, multidisciplinary teams and patients, and fewer delays to care.
80%
of transcription workflow is handled through Dragon Medical
£2.3
million savings
predicted over
five years
60%
of dictated documents were finalised in less than two days
Learn more about the benefits of speech recognition with Dragon Medical One