Want to improve clinical documentation? Just say the word.
We make it easy and fast to update your electronic medical records (EMR). Our clinical speech recognition solutions allow doctors and nurses to capture and document patient data quickly and more accurately, saving them time, and improving the quality of the patient care record and speeding up healthcare data availability and quality.

Natural data entry for those who care
Forget about typing
Dragon Medical solutions accurately translate the doctor's voice into a rich, detailed clinical narrative that feeds directly into the EMR. Enter and capture health data simply using your voice.
Accurate records
Avoid mistakes with Dragon Medical solutions that recognise clinical vocabulary and adapt to your voice, style of speaking and accent.
Time and efficiency
Dragon Medical speech‑to‑text features free up time by disentangling the healthcare professional from the keyboard and the screen.
Ease of use
Your voice, understood. A simple, natural, intuitive tool to updating your EMR.
Quality of care
Ability to capture a more complete, accurate patient story supports better clinical decision making.
Adapts to you
No matter how you work, we have a Dragon Medical solution to match. Choose from desktop, or a hybrid deployment approach on‑premise or cloud.
Complete integration
Nuance solutions are designed to work with industry standard clinical IT platforms—including Agfa, Cerner, Central Data Networks, Comrad, GE, Intelerad, Kestral, Promedicus etc.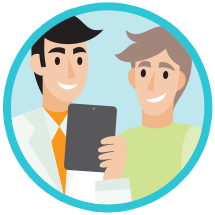 Three reasons and the evidence to speech‑enable your EMR
Digitised clinical documentation is the cornerstone of Australia's vision for a fully‑integrated national eHealth network to deliver productivity benefits for healthcare and quality outcomes for patients. But many healthcare professionals are struggling with the increased burden of administration and poor usability of digitised systems. Speech recognition integrated into clinical documentation is fast becoming one of the most used tools in the quest for eHealth adoption.
Functionalities
Clinical documentation: quick, precise & high quality
Speech‑to‑text (speech recognition)
Robust and reliable voice recognition from the first day. A professional vocabulary covering a wide range ofmedical specialties. Dictate with confidence using the specific vocabulary of your specialty.
Voice navigation and correction
Nuance healthcare solutions allow users to navigate and correct dictations in their application usingonly their voice. Integrated voice commands simplify dictation, navigation and text corrections. Allow your cliniciansto quickly move through your application with simple voice actions.
AutoText, macros and personalised commandos
Customizable text blocks allow application users to save time and increase efficiency. Complements standard commands with personalized interactions.
Adapts to your infrastructure
Thanks to the variety of available solutions, there is one thatadapts to each client. From local installation to support for thin clients, virtualized servers and Citrix environments, integration into the existing IT infrastructure is quick and easy.
Solutions for clinical documentation
There's a speech solution that's made for you
Nuance powered Clinic to Cloud practice management software at In Vitro Fertilisation (IVF) Australia
Nuance speech-to-text is a key component of this cloud-based medical practice management software and helps reducing letter turn‑around times and improving patient care.
Distributors and integrators of Nuance
Nuance has a network of trained and certified companies through which we sell our solutions guaranteeing the end user optimal use and greater convenience.
Where to buy
Nuance partners help their customers with the installation, commissioning and use of Nuance voice solutions. They are companies specialized in ICT in health, trained in voice recognition and provide services, support and advice at all times. Contact us to find the Nuance provider in your area and specialty.
Become a Nuance distributor
Nuance distributes Dragon Medical's solutions through authorized and certified partners in order to ensure that our customers will take full advantage of Dragon Medical's added value. For more information contact us through healthcare.connections@nuance.com
IT integrators and developers
To facilitate the integration of voice in your clinical application, whether desktop or web, we offer a specialized program. Join our community: www.nuancehealthcaredeveloper.com
Award‑winning solutions that have won over the industry
10,000
healthcare facilities worldwide
500K+
clinicians in 10K+ organizations worldwide
300 million
patient stories get told accurately every year
Why should you speech-enable your clinical documentation?