Want to improve your clinical documentation? Just say the word.
Make it easy and fast to update your electronic medical records (EMR). Our clinical speech recognition solutions allow doctors and nurses to capture and document patient data quickly and more accurately, saving them time, and improving the quality of the patient care record and speeding up healthcare data availability and quality.
Natural data entry for those who care
Forget about typing
Dragon Medical solutions accurately translate the doctor's voice into a rich, detailed clinical narrative that feeds directly into the EMR. Enter and capture health data simply using your voice.
Accurate records
Avoid mistakes with Dragon Medical solutions that recognise clinical vocabulary and adapt to your voice, style of speaking and accent. Your voice, understood. A simple, natural, intuitive tool to updating your EMR.
Time and efficiency
Dragon Medical frees up time by disentangling the healthcare professionals from the keyboard and the screen.
Quality of care
Ability to capture a more complete, accurate patient story supports better clinical decision making.
Complete integration
Nuance solutions are designed to work with industry standard clinical IT platforms—including Agfa, Cerner, Central Data Networks, Comrad, GE, Intelerad, Kestral, Promedicus etc.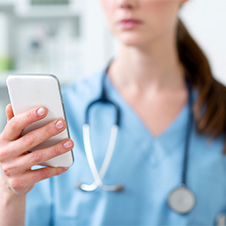 Reasons and evidence to speech enable your EMR
Digitised clinical documentation is the cornerstone to deliver productivity benefits for healthcare and quality outcomes for patients. Many healthcare professionals are struggling with the increased burden of administration and poor usability of digitised systems. Speech recognition integrated into clinical documentation is fast becoming one of the most used tools in the quest for eHealth adoption.
Incredible outcomes start here…
100M
fewer clicks means more time for patients
45%
less time spent on clinical documentation
90%
of clinicians agree that Nuance helps improve the quality of documentation
Solutions
AI solutions that empower clinicians
Nuance solutions and services ensure information accuracy throughout the entire patient journey. Now, thanks to AI in healthcare, you can trust that clinical documentation and the patient story will always be "first time right."
Award‑winning solutions that have won over the industry
10K
healthcare facilities worldwide
500K+
clinicians in 10K+ organisations worldwide
300M
patient stories get told accurately every year