Intelligent experiences—for brands that stand out. This is The Modern Voice.
The rebirth of voice
We'll let you in on a secret: Digital hasn't killed voice. In fact, it's made voice more important than ever.
In a world of virtual assistants and smart homes, customers expect to control their experiences with technology simply by talking. They're used to having connected, conversational, effortless experiences, which means that every one of your customer engagement channels—from IVR to mobile to web—needs to deliver them.
That's where The Modern Voice comes in: combining AI‑powered, enterprise‑grade speech technologies to enable automated, intelligent, contextual conversations that feel almost human.
Using natural, conversational language makes life easier for your customers (that's a big boost for satisfaction and loyalty). And greater automation and self‑service makes life easier for you (with a big drop in operational costs, too).
Get our latest resources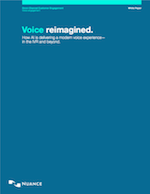 (pdf. Open a new window)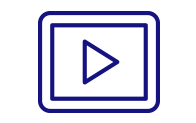 (Open a new window)
Unlock the true business value of speech
The Modern Voice makes the dream of intelligent, autonomous, conversational interactions a reality. So engaging with your brand becomes much less effort for customers—and serving customers becomes much less expensive for you.
You've got two options: Stick with the same old, same old and hope for the best, or push yourself to be better and give customers the effortless experiences they crave.
With advanced speech solutions (backed by tooling, starter packs and analytics), you can:
Engage customers better by giving them the frictionless, contextual experiences they want
Keep costs down by increasing automation and making self‑service more effective
Become more agile by quickly developing and customising voice applications and reusing them across channels—from IVR to mobile, web, and IoT devices like self‑service kiosks or ATMs
Hear how to transform the way you engage with customers...
...with advanced speech technologies
Enterprise‑grade speech. Powered by AI. For effortless experiences.
Massive R&D investments in conversational AI technology? Check.
Decades of leadership in natural language processing? Also check.
Deep experience of helping ambitious organizations enhance customer care? Yup.
That's what it takes to deliver The Modern Voice. And here's what it gives you…
Meet Zoe—the new voice of your brand.
Say hello (or hi, or howdy or hola) to Zoe—just one of our new text‑to‑speech voices. Let Zoe show you how good The Modern Voice can be.
Your new IVR: So long cost centre, hello value creator.
Still think your IVR is just a cost of doing business? Time to wake up and smell the AI.

With intelligent technology enabling natural interactions and effortless, connected self‑service experiences, your IVR becomes a key part of your brand identity, rather than just a way to deflect calls.

And the value extends beyond the IVR, too. With DIY tools and analytics, you can serve customers better—and more cost‑effectively—with frictionless experiences across IVR and digital channels.
Already a Nuance voice customer?
See how much more you could achieve with The Modern Voice. Schedule a meeting now or get in touch with your account executive to learn everything you need to know.
Schedule a meeting