Create a human voice for your brand
Nuance's Text‑to‑Speech (TTS) technology leverages neural network techniques to deliver a human‑like, engaging, and personalized user experience. Enhance any customer self‑service application with high‑quality audio tailored to your brand.
Try Nuance Text‑to‑Speech
Select a voice and enter text into the box below to hear how Vocalizer can be the voice of your brand.
Safari Users: If there is no audio playback, please enable Audio Autoplay in your browser preferences under the Websites tab and refresh the page.
Nuance Vocalizer delivers life‑like voices that are trained on your use cases and dialogues, and speak your language as fluently as a live agent. Vocalizer uses advanced text‑to‑speech technology based on recurrent neural networks, delivering a far more human‑sounding voice with key benefits including:
A superior caller experience
Reduced costs by automating more calls
Flexibility and control to update your application
Differentiate your brand with a custom voice experience
It couldn't be easier
Nuance TTS establishes a unique voice for your brand and maintains consistent caller experience across your IVR and mobile channels. Designed to empower high‑quality self‑service applications, Nuance TTS creates natural sounding speech in 53 languages and 119 voice options. With Vocalizer, your brand can say whatever you want it to and whenever you need it to—without having to hire, brief or record voice talent.
Benefits include:
A wide portfolio of human‑sounding voices
Enhanced expressivity
Expanded multilingual support
AI‑optimized text processing
The ability to create unique custom voice personas
Access to our newest voice, Zoe: a breakthrough in natural‑sounding automated voice
Get our latest resources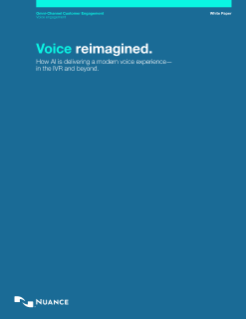 Blog: Now's the time to reevaluate the role of voice
Read why organizations must rethink the role of voice in a world where consumers want to engage through channels and devices beyond the phone.
Read our blog

(Open a new window)
Why Nuance
Nuance Text‑to‑Speech expertise has been perfected over 20 years. By pursuing more natural and expressive speech synthesis, we have developed technology that can pronounce challenging words better than most humans.
Nuance Text‑to‑Speech technology powers many of our solutions
See how our technology stacks up
25
years of Nuance TTS expertise
53
languages available to support your global business efforts.
119
unique voices—17 of them multi‑lingual—to distinguish your brand
Our expertise, your success
Nuance professional services leverage 25 years of experience and thousands of successful deployments to offer thought leadership and commitment to your results. We use the latest tools and techniques to design, develop, deploy, and optimize your speech‑enabled IVR applications.
Explore professional services