Industry award‑winning solutions
Everything you do improves exponentially with Nuance as your trusted partner. Discover how Nuance's best-of-breed solutions can multiply the impact you have every day.

Best in KLAS
Nuance solutions rank #1 in Best in KLAS Report
#1 Solutions Provider by Black Book Research Across Speech Recognition and Clinical Documentation Improvement

Nuance maintains the highest industry satisfaction ranking in AI‑powered CDI, speech recognition and clinical intelligence solutions essential for delivering value-based care.
Top ranked for End-to-End Healthcare Coding, CAC & HIM Solutions
Ranked #1 for End-to-End Coding, CAC & HIM Solutions for inpatient hospitals, health systems, physicians and medical organizations, and #1 for CDI technology in hospitals.
About Black Book Market Research
Black Book Market Research is the parent group for Black Book Rankings, a full‑service healthcare‑centric market research and public opinion research company. Founded in 2002, the company today serves a wide variety of prominent national and international clients. Black Book Rankings offers complete quantitative and qualitative research services, excelling in the design of customized surveys and research approaches to meet specific client needs in healthcare, pharmaceutics, biomedical devices, managed care, health insurance, and technology.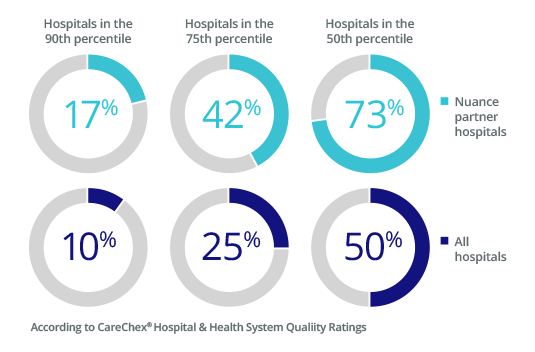 Driving outcomes
Nuance partner hospitals outperform their peers in overall quality ratings
See how clinically‑driven CDI improves hospital care quality benchmarks to more than 3x the national average.
Conversational AI Leader
Healthcare Informatics 100 ranks Nuance #17
This ranking reflects Nuance's commitment to innovation and strong adoption of its intelligent clinical documentation solutions.