Deliver better patient experiences with AI‑powered, omni‑channel technology
Nuance patient engagement solutions combine decades of healthcare expertise with award‑winning intelligent engagement technology trusted by 1,500 leading brands. A single solution based on proven AI powers the modern Digital Front Door, bringing world class consumer engagement to healthcare and advancing the quality of service organizations deliver across the patient journey.


Meet the demand for digital convenience
A single, intelligent omni-channel solution powers contextually relevant and natural interactions across voice and digital channels to boost patient satisfaction, foster better engagement, and achieve better outcomes.
A single conversational AI solution
Solve pressing patient engagement issues across the patient journey with pre‑built or custom applications that deliver consistent and contextually relevant experiences across channels.
Proven engagement technology
Deliver advanced voice and digital patient experiences using the same market‑leading technology trusted by 85% of Fortune 100 companies best known for a great consumer experience.
Proven healthcare technology
Enable natural interactions with the same conversational AI that powers virtual assistant capabilities within Epic, Cerner, and MEDITECH.
Integration to core systems
Drive intelligent automation by connecting to organization EHR, CRM, patient access center, revenue cycle systems, and telephony infrastructure.
Technology with a human touch
Maximize efficiency and achieve superior outcomes with automated delivery of information and transfer to live agents. Nuance Service Desk for Patient Portal boasts a 100% client renewal rate.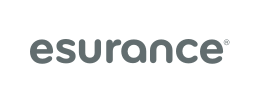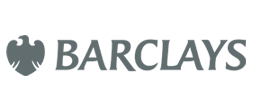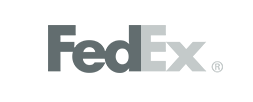 AI at the Digital Front Door
Nuance Patient Engagement Solutions use the same award-winning platform that powers over 31 billion intelligent customer interactions annually for leading brands around the world. By applying intelligent technology to use cases across the patient journey, organizations can deliver digital convenience that promotes better patient engagement and greater satisfaction.
See how Nuance virtual assistants and chatbots provide conversational experiences that offer self-service and live assistance on the channels patients prefer.
See how Nuance Gatekeeper replaces slow, vulnerable authentication factors and reactionary fraud prevention strategies with seamless, secure biometric authentication and intelligent, proactive fraud detection.
See how Nuance Interactive Voice Response (IVR) understands caller intent and can use voice-to-message capabilities to provide immediate, personalized assistance and reduce call wait times.
See how Nuance Insights provides a full view into omnichannel performance to inform ongoing optimization, deliver consistent consumer experiences, and improve ROI across channels.
Delivering measurable outcomes across channels
42%
Reduction in Agent Handle Time (AHT)
85%
First Contact Resolution (FCR)
26%
Increase Customer Satisfaction (CSAT)
Benefits
Boost satisfaction to advance patient engagement, retention, and outcomes
Meet staffing needs while containing costs
Protect valuable live agent time with call deflection and automated patient communication for common support issues. Interactive Voice Response (IVR) and virtual assistant capabilities provide support through a natural, conversational dialog.
A well‑used patient portal and busy physicians maximize technology use and patient capacity. Boost patient portal use by easing access and automating self‑service. Limit revenue loss from no‑shows and improve communication with appointment reminders that enable convenient appointment management.
Enhance service for a competitive edge
Build analogous patient experiences with intelligent, valuable responses for successful interactions—no matter how patients get in touch. Convenient tech‑enabled solutions enhance patient interactions, improving patient satisfaction, retention, and outcomes.
Enhance the power of your EHR
Explore how to complement the EHR and automate intelligent conversational AI patient experiences with Nuance Patient Engagement Solutions.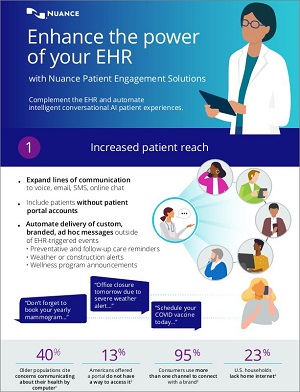 Industry challenges
World‑class consumer engagement technology solves pressing issues in patient engagement
$150B
attributed to missed healthcare appointments in the U.S. every year
50%
of support tickets involve password resets, account unlocks, account activations, pre‑visit preparation, and post‑visit follow up
84%
of patients under 40 look for providers who use advanced patient engagement technology
Features
Everything you need for engaging patient experiences
Unified, omni‑channel communication
Personalized, automated outreach provides patients with relevant information over their preferred method of contact. Re‑use constructed conversational experiences within and across channels—eliminating redundant work.
Bilingual interactive assistance is always available, seamlessly addressing fluctuating call volumes and limiting call wait times and live agent use. Automated call deflection and triage provide self‑service options and quick answers to patient questions.
Intelligent conversational dialogs
Market‑leading conversational IVR technology uses natural language to accept, understand and effectively resolve requests. As a result, patients speak freely in their own words and quickly complete tasks.
Real‑time analytics allows organizations to monitor, assess, and react to service performance metrics and identify improvement opportunities.
Solutions
Elevate your approach to patient engagement
Proactive and responsive communications instill trust and strengthen the relationship between patients and their care team, resulting in better patient adherence, retention and outcomes. Achieve operational efficiencies and help patients manage their care on their terms with an expanding portfolio of existing applications—or custom‑build your own.