The best outcomes rely on first time right
Like other countries across the world, healthcare in Australia has reams of clinical documentation—recent estimates for 2015‑16 suggest that there were 10.6 million discharge summaries, 28 million outpatient reports/letters and 2.2 million procedure notes. But is it in a digital format that is useful? We've built our business around the idea of first time right, to ensure healthcare documentation is the best it can be, empowering clinicians and care teams with AI-powered solutions to overcome the data entry burden that the EMR can place upon clinicians.

Overload and burnout are big issues for clinicians today.
Can AI technology help?
Visit our infohub to learn more.
Visit infohub
Concerns & benefits
Free care teams from rework, recall, repeat.
Elevate your outcomes by getting it right the first time.
Provider experience
When it isn't right the first time:
Clinician satisfaction suffers.
When it's first time right:
Clinicians experience less burnout and spend more quality time with patients and themselves.
Optimised and utilised EMR
When it isn't right the first time:
Return on investment isn't fully realised.
When it's first time right:
Clinicians work more efficiently, saving time, money and clicks.
Financial integrity
When it isn't right the first time:
Time-consuming rework ensues.
When it's first time right:
Appropriate diagnoses lead to proper payment, less rework, and compliant claims.
Quality
When it isn't right the first time:
Quality scores drop.
When it's first time right:
Improved performance and quality scores result in a stronger reputation.
Incredible outcomes start here…
100M
fewer clicks means more time for patients
$1B
of appropriate reimbursement means better financial integrity
90%
of clinicians agree that Nuance helps improve the quality of documentation
Solutions
AI solutions that empower clinicians
Nuance solutions and services ensure information accuracy throughout the entire patient journey. Now, thanks to AI in healthcare, you can trust that clinical documentation and the patient story will always be "first time right."
Documentation capture solutions
Secure, cloud‑based clinical documentation capabilities that accurately and efficiently capture the patient story into all major EMR platforms. Our AI‑powered Speech Recognition soluions offer the freedom and flexibility to complete patient notes and simplify the documentation process using automated workflow options that dramatically boost productivity and reduce costs.
Dragon Medical One
Cloud‑based speech recognition that provides a consistent and personalised clinical documentation experience across solutions, platforms and devices regardless of physical location. Save time and increase efficiency with the most powerful cloud‑ based speech recognition in the world.
Dragon Medical Forms
Eliminate pre‑printed paper forms and streamline processes enterprise‑wide, saving time and costs and enable clinical teams to capture data on the go.
Dragon Medical Workflow Manager
An end‑to‑end clinical document creation solution that manages all steps in the clinical documentation process from creation to distribution, enabling healthcare organisations to reduce letter backlogs, boost clinician efficiency and improve the quality of patient documentation.
The future of healthcare
Nuance is reinventing the doctor patient experience with ambient sensing and understanding technology by building on decades of healthcare experience, an extensive market footprint, and its highly—scalable, multi channel virtual assistant platform.
On-demand webinar

The clinic room of the future
The role of AI‑powered speech recognition in improving quality, speed and turnaround of clinical documentation.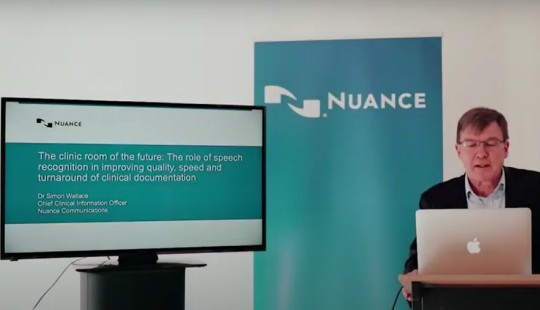 Fill out the form and view the on-demand webinar.
The benefits of speech-enabling your clinical documentation
The pressure is on for healthcare teams and organisations to improve the quality of clinical documentation ensuring continuous, uninterrupted patient care especially during difficult times.

Speech recognition integrated into clinical documentation is fast becoming one of the most used tools in the quest for digital health adoption. In this whitepaper, we examine the benefits for individual healthcare professionals, patients and Australian healthcare overall.