Jointly we improve your EPR workflow with voice
Collaborating with more than 150 EPR, RIS and PACS suppliers, global and local Health IT specialists and NHS IT suppliers, our goal is to maximise your investment in your electronic patient record, diagnostic imaging system or other health record platform. Our healthcare speech recognition solutions integrate with your workflow for seamless deployment and adoption, enable a smoother and user-friendly data entry using your most natural way of communication, your voice!

Our global partnerships set us apart
Given all of the platforms, devices, and unique demands of the people who use them, creating a seamless experience isn't easy. That's why we partner with the broadest range of EHR and healthcare IT solution providers. Our goal is to make it easier for clinicians to document everything without ever taking their focus off what matters most—caring for their patients.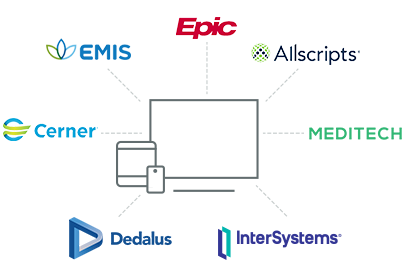 Nuance partners with your Health IT vendors to create value for your organisation
Nuance partners with leading healthcare information, systems integration, hosting and platform partners around the world. These leaders offer quality speech-enabled solutions based on Nuance core platform technologies or distribute our Dragon Medical solutions including the necessary services and maintenance to make sure you can benefit most of our professional medical speech recognition solutions: The result is flexibility for enterprises of all sizes to select the solution that fits their needs and be confident that Nuance is inside.

Our partners are selected according to strict criteria based on the strong demand for expertise in the healthcare environment. They are the only channel recommended by Nuance Healthcare to supply and install Nuance Healthcare technology in the UK and Ireland.
Integration that runs deep
Using collaborative roadmaps, Nuance Healthcare solutions—from industry‑leading clinical speech recognition, to clinical documentation solutions, transcription software or radiology reporting solutions—are integrated and directly embedded within leading EPRs as well as RIS/PACS and workflow solutions for mobile, web, and desktop.
Co-development for a singular experience
Technical strategy is the backbone of our partnerships. That's why we engage in joint development and innovation projects with our EPR and healthcare IT partners. Whether it's embedding Dragon Medical directly into leading EHRs, or partnering with leaders for integrated radiology workflows, we work alongside our partners so that we can deliver a seamless user experience.
Perfect fit for your GP surgery EPR
Dragon Medical Practice Edition, the locally installed desktop solution helps you improve documentation, eliminate transcription costs, increase efficiency, profitability and physician satisfaction. Dragon releases everyone in the clinical and practice team from mundane day‑to‑day administration integrated into all standard primary care EPRs. Dragon Medical is exclusively distributed via local Nuance certified partners, who make it easy for you to get started!
A well-developed integrator community
We're proud when our solutions are embraced by healthcare organisations—and flattered to see them adopted by healthcare developers worldwide. Our developer program is comprised of more than 1,000 experts from EPRs, RIS/PACS, workflow providers, health systems, and consultant firms who put our clinical speech recognition and natural language understanding solutions into their applications.
Integration and EPR alliances
Supporting more than 150 EHRs
Nuance partners with more mobile, web-based and desktop EHRs than could ever fit on a web page, but you'll find some of our biggest relationships here.
Professional Services
Transforming innovative technology into intelligent solutions
Whether you're in a small organization or a large enterprise, our Service teams have all the system proficiency and best practices you need to get up and running. We'll help you achieve significant cost savings, increase RIS/PACS adoption, streamline workflows, and deliver higher quality care.
Guidance, support, and advice
Our teams focus on helping you get the most of your Nuance investments by providing guidance, support, and advice every step of the way. Because we developed the technology, we know exactly how to enhance efficiencies and achieve unparalleled results supported by analytics and insights.
Results-driven methodology
Nuance's results-driven methodology—coupled with our deep domain expertise, technology and clinical knowledge—help you make quality decisions based on usage and behavioral analytics. And our deep partnership with clients, EHRs, RIS, PACS, and healthcare IT experts ensures our solutions will continue to evolve as the industry does.
Dragon Medical Solutions
Boost your digital dictation, cut transcription costs, enable your clinicians to directly document in the patient records, in their own words: