Improve conversion and retention on a single platform
Nuance has an omni‑channel customer engagement platform that will cut your live interaction operational costs and amaze your customers with a much more efficient and enjoyable experience.

A Nuance insurance solution for every stage of the customer journey
From the customer acquisition stage to quote confirmation and sign-up. From payment processing to claims, Nuance virtual assistants, live chat, automated voice, outbound text or email and conversational IVRs can help contain calls and boost satisfaction.
And all of this can be achieved on a single, omni-channel platform that ensures the customer receives relevant, accurate and timely information across voice, digital and outbound channels.
Get our latest resources
(pdf. Open a new window)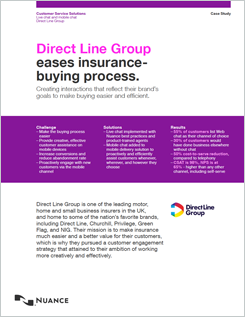 (pdf. Open a new window)
Improved conversion rates
As shoppers are evaluating coverage and requesting quotes, a Nuance virtual assistant and live chat can answer questions, steer customers toward resources and even provide quotes. Using proactive customer engagement, like an automated voice, text or email confirmation of a quote, can help deflect calls. A well‑designed Nuance IVR that employs natural language understanding can help contain those calls and boost satisfaction. Even if a shopper abandons the process before completion, a proactive engagement message can encourage them to complete the transaction.
Effectively collect premiums
Starting with automated payment sign‑up, Nuance virtual assistants and self‑service IVRs can also make the premium payment process easy. Ensuring timely revenue streams and reducing delinquency and collections later on. For those customers not on automated payments, automated reminders through their channel of choice make it easy to take action from their computer or, better still, their phone, enabling them to transfer directly to a payment web page or payment‑enabled self‑service IVR from a clickable text.
Make the claims and adjustment process more efficient
The initial application often requires a call to the contact centre, so use Nuance's industry‑leading conversational NLU to enable customers to bypass frustrating menus, key pad presses and directed dialogue. From there, Nuance virtual assistants and conversational IVRs can address customers' claims enquiries or, better still, send automated claims status updates via text, automated voice or email. And Nuance's sophisticated proactive customer engagement platform can not only send out reminders or confirmation of claims adjuster appointments, but also enable rescheduling within the applications.
See how our product stacks up
3%
improvement in containment in the first year for Cigna following deployment by using customer insights
50%
improved conversions for Esurance due to increased efficiency and visibility in chat
50%
reduction in cost‑to‑serve for Direct Line Group after implementing live chat