Become an expert on multi-modal biometrics
Multi‑modal biometric authentication is becoming the go‑to security option for enterprises who want to offer the most convenient and secure customer authentication.

An authentication choice
The popularity of multi‑modal biometric authentication has exploded in the past few years. According to Opus Research, there will be more than a half‑billion voiceprints alone by 2020. It's not hard to see why, as people become more and more comfortable with biometric authentication, enterprises are using multi‑modal biometrics to improve security while keeping customers happy.
Multi‑modal biometric authentication benefits the enterprise in three specific ways. It vastly improves the customer experience with no cumbersome passwords to remember. It improves the security of traditional customer authentication and prevents hacking and data breaches. And it enables layered authentication, which allows even the highest risk transactions to be performed in self‑service channels.
Get our latest resources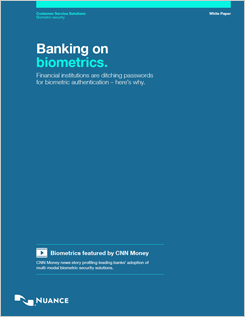 (pdf. Open a new window)
Biometric Security Videos
Authenticate your customers with a passphrase like "My Voice is my password".
Authenticate your customers without interrupting their request.
Give your customers the choice of Facial Recognition on their smartphone.
Continuous authentication to ensure that the customer with the login is really the customer.
Improved customer experience
Your customers want to have a choice. With multi‑modal biometric authenitcation they can choose the authentication mode that matches their situation. On a crowded bus, it may be easier to authenticate with a selfie rather than a voice password. By giving customers choice, enterprises improve customer satisfaction.
Improved security
PINs, passwords and challenge questions are inherently insecure. Fraudsters can buy credentials online and find personal details easily on social media. Enterprises can provide two‑factor authentication with multiple biometric modalities without having to rely on unsecure PINs and passwords.
Layered authentication
Two biometric factors allow for even the highest risk transactions to be performed in self‑service channels. A business might provide some information when the user logs in but require an additional authentication for higher risk transactions like transferring money.
Your customers want a stronger security experience
2/3
of data breaches happen because of exploitation of weak or stolen passwords
85%
of people are dissatisfied with today's automated authentication
Features
The leading multi‑modal biometrics solution

Contact centre caller verification
Agents can serve customers immediately when the call is answered. No need for an interrogation process.

IVR caller verification
Customers can get to the functionality they want quicker and actually benefit from the self-service investments made by your organisation.

Mobile app authentication
A vastly more secure and convenient gateway to any app that contains personal information or enables sensitive transactions.

Web transaction validation
A quicker and easier‑to‑use authentication process that boosts completion rates whilst reducing fraud.