Predict why customers will contact you before the need arises
Nuance Prediction Service uses artificial intelligence to predict customer intent and take the right action to proactively meet their needs.
Powerful prediction for personalized, and effective, customer engagements
With Nuance Prediction Service, organizations can create highly personalized experiences, powered by AI, that enables them to take proactive action that elevates the customer's experience and improves business results.
Customer demands are rising and changing fast. Organizations need to keep up and offer great service while still focusing on operational efficiency. Predictive solutions can help. Nuance Prediction Service analyzes aggregate customer data from across all channels to model and determine intent and selects the right next step to service customer needs.
Prediction services are limited only by your imagination. Popular use cases include:
Predict why someone may contact the organization before they do.
Predictive routing—Proactively, and effectively, route someone to the best agent or resource to service their needs.
Proactive Engagement—Identify customer patterns and trends and proactively contact them via SMS or email before they call, or prevent a call altogether.
Get our latest resources

(pdf. Open a new window)

(Open a new window)
Benefits
What Prediction can do for you
Improve business results
As prediction and customer experience improves, so do business results. Key performance indicators (KPIs) such as containment rates, routing accuracy, conversion rates, and revenue will improve with each customer engagement.
Improve interactive voice response (IVR) containment rates by accurately predicting why customers call and direct them to the right solutions faster within the IVR—without the need for a live agent.
Increase agent productivity and customer satisfaction by knowing why someone engages live chat; then use predictive routing to get them to the correct agent.
Decrease the need for calls altogether by analyzing customer patterns and proactively engaging customers via SMS or email to pre‑empt and reduce the need for future engagement.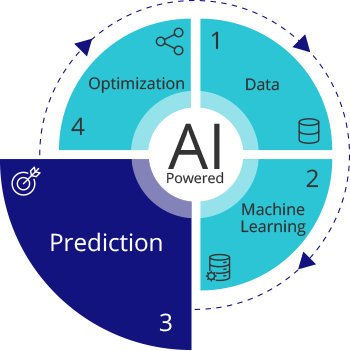 Highly personalized experiences
Customer experiences are elevated to a new level when organizations accurately anticipate why their customers engage. By using artificial intelligence and machine learning to analyze aggregated data from past interactions, engagement preferences, and cross‑channel history; organizations can provide highly personalized experiences that delight customers and break the standard cookie‑cutter service approach.
Continuous learning & improvement
Nuance Prediction Service is always learning. During each encounter, the Prediction Service makes a calculated projection of the reason for the engagement, records and remembers responses, and updates the model to ensure the best possible experience the next time. With constant analysis from aggregate customer transactions across all service channels, organizations can "fail fast" by testing new concepts, offers, or menus quickly and determining the best performers.
Call prevention
Eliminate the need for a call by using proactive notification via SMS or email to provide relevant, useful assistance or customized deals.
Digital acceleration
Remember past behavior and speed a customer to the right next step.
Churn reduction
Identify patterns that customers may be close to canceling their service based on web activity, words, tone or sentiment and take appropriate action in advance.
Revenue generation
Analyze customer buying patterns and proactively offer companion solutions in real‑time.
Agent assistance
Improve agent satisfaction by using past customer data to predict customer needs and deliver them to the agent before the call arrives for a better overall experience.
Machine learning model
Prediction capabilities are built with machine learning based models vs. human‑generated, rules‑based models that are harder to adapt and scale.
Omni-channel
Nobody wants siloed channels. Building an application once and deploying it everywhere is the goal for any organization. With Nuance Prediction Service, the same prediction model designed for someone calling the IVR can also work on the web or mobile app, ensuring maximum ROI.
Hosted and on‑premise support
Deploy prediction in hosted or on‑premise channels for a more powerful and consistent customer experience.
Utilize out‑of‑channel data
Combine existing customer data with "out‑of‑channel" data such as local weather, current offers, and other relevant information to create an even more personalized and targeted engagement.
Experienced professionals
With over 20 years experience, Nuance Professional Services delivers intelligent customer service solutions, including predictive capabilities, using proven processes and tools that increase efficiency and quality to generate exceptional results.