A more life‑like automated voice for your brand
Vocalizer is a complete, enterprise‑ready text‑to‑speech output engine that enables more human‑like, personalized customer interactions for less cost and hassle than hiring voice talent.
A new generation of conversational AI technology
Creating audio output for the IVR and mobile apps can be complex and expensive. Nuance Vocalizer delivers a custom voice, trained on your use cases and dialogues, that speaks your language as fluently as a live agent.
Vocalizer uses advanced Text‑to‑Speech technology based on recurrent neural networks, delivering a far more human‑sounding voice with features including:
Graceful blending of static and dynamic speech output
Enhanced expressivity
Improved multilingual support
High‑quality speech output
Refined speech quality and accuracy through optimized text processing
More comprehensive pronunciation dictionaries
Complete voice refresh in many languages
Get our latest resources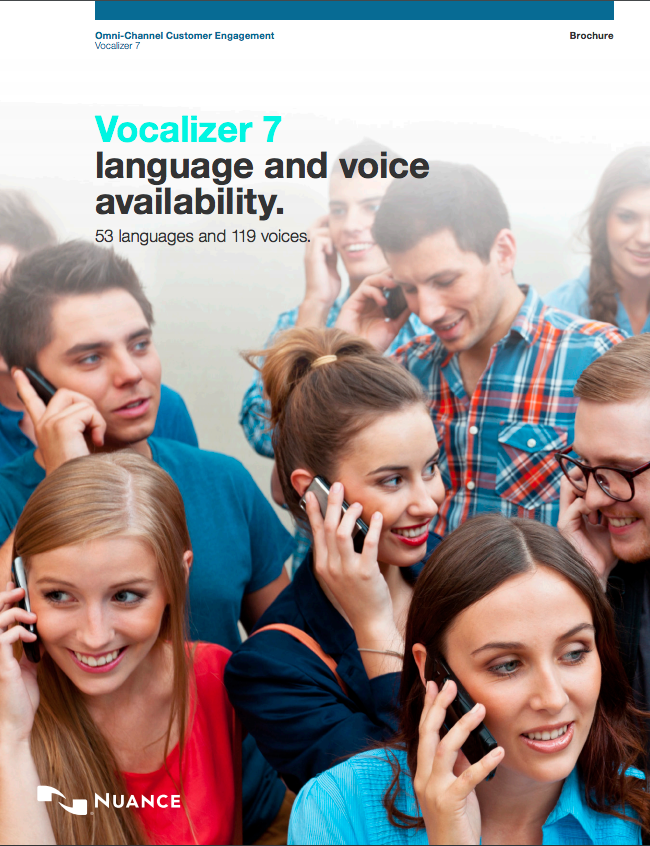 Vocalizer 7 Language and Voice Availability brochure
See the many different languages and voices available for this new generation of Text‑to‑Speech technology.
Get it now

(pdf. Open a new window)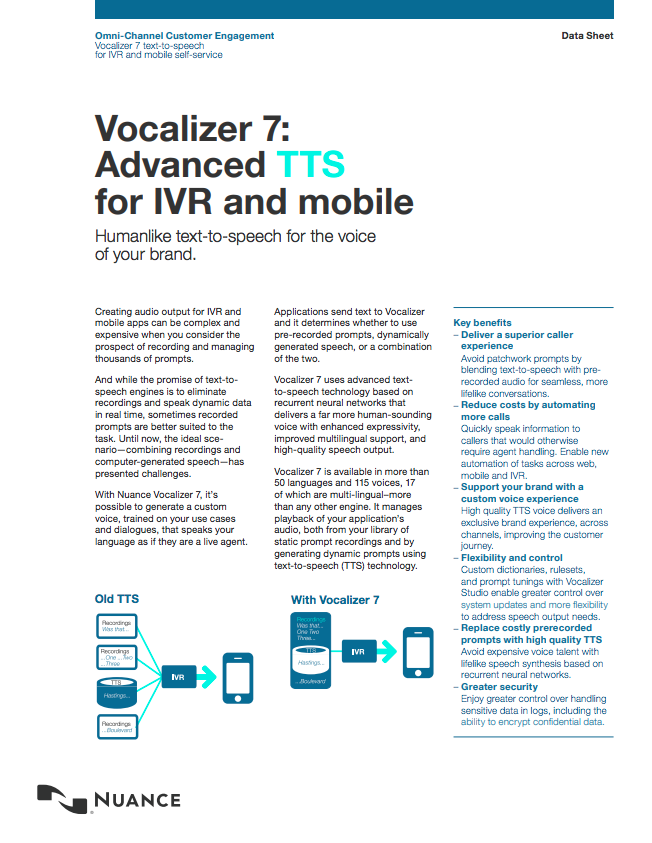 Enhanced experience
Create a more appealing customer interaction and faster service with natural‑sounding speech that offers unmatched expressiveness and personality. Automate more calls by speaking information that would normally require a customer service representative. Vocalizer delivers seamless, life‑like conversations using high‑quality text‑to‑speech, optionally blended with pre‑recorded audio.
Customisable solution
Build consistent experiences across web, IVR and mobile applications that can be customized for each situation. Multiple speech‑based applications can share the same instance of Vocalizer 7, providing a consistent brand experience, while still being tracked separately. Vocalizer Studio allows you to evaluate and adjust text processing and pronunciations, as well as fine‑tune speech output by customizing intonation and expression. Add custom voices for an exclusive brand experience tailored to your business.
Flexible implementation
Support for all industry‑standard platforms such as SSML, VXML and MRCPV2; secure hosted and on-premise environment options; and easy application development. Simplify ongoing maintenance with the ability to manage recorded prompts and generated speech through one unified interface and tune or customize on the fly without interrupting live traffic.
Lower costs
Save 30% on average using TTS and maximize that investment by deploying across web, mobile and IVR. Automate more calls across channels, reserving agent time for higher value interactions. Use pre‑built voice add‑ons and industry vertical domains to accelerate your development process and get to market faster.
Features
Enterprise‑ready spoken output engine
A complete spoken text-to-speech output engine that enhances the IVR experience.
Unmatched expressivity
Vocalizer 7 voices have an appealing personality for the most natural and engaging user experience possible. Advanced syntactic analysis provides better modeling of prosody, emphasis and intonation.
High‑quality voices
Voices with incredible smoothness, continuous enhancements and innovative technical capabilities provide a new level of customer experience. Our newest voice, Zoe, raises the bar for life‑like automated speech, showing a 40% reduction in errors when compared to previous voice models.
Support for 53 languages and 119 voices
Nuance provides broad coverage in the Americas, Europe, Middle East and Asia.
Highly tunable and customisable
Vocalizer 7 offers unprecedented control over speech output with Vocalizer Studio, a suite of easy‑to‑use tools.
Stats
Time saved is money saved
A 25% improvement of IVR call handling for a business with 24m calls a year leads to the elimination of 60,000 agent calls, which can equal a saving of nearly $300,000/yr. (2m calls per month at $5 per agent call).
Getting account details
18% reduction in interaction time.
Ordering cheques
14% reduction in interaction time.
Hearing flight status
50% reduction in information delivery time.
Let's discuss how Vocalizer can help you deliver better, more cost‑effective customer service.