Bring intelligence to your phone
An AI‑driven Intelligent Virtual Agent surpasses the performance of basic interactive voice response (IVR) systems and allows callers to speak freely and resolve their issues successfully, just as if they were speaking with a human. Power your patient access center or organization telephony with automated routing and call resolution that boosts patient satisfaction, achieves efficiencies, and contains staffing costs.
Let patients use their words
With Nuance IVA (Intelligent Virtual Agent), patient callers verbalize their need and are quickly routed to self‑service options, live assistance, or other destinations. Intelligent automation helps organizations address high call volumes and make smart use of staff.
The best experiences rely on NLU‑powered AI on voice channels
See how Nuance is uniquely able to deliver an exceptional experience to patients over voice with technology that outperforms standard IVR.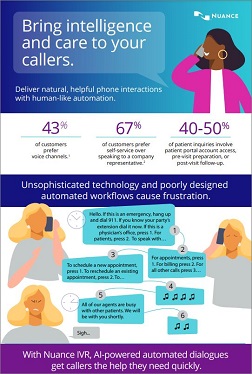 Benefits
Easy, effective conversational experiences
A sophisticated IVA designed for healthcare greets callers with "How can I help you today" and lets them answer naturally. Intelligent, automated responses quickly give them what they need. By eliminating the use of tedious or confusing menu prompts, organizations achieve shorter, more satisfying interactions.
Improve the patient experience
Patients can verbalize their needs rather than listen to strings of IVR menu prompts or hold music. Patients can complete self‑service tasks 24x7x365 over voice or receive links via SMS for quick access to online information. Meanwhile, live agents are available for escalated assistance.
Gain efficiencies
Standardize workflows in the patient access center—or across organization telephony—and simplify the caller experience. Patients interact naturally with familiar voices and successfully connect to requested destinations within shorter timeframes.
Reduce costs
Direct patients to requested end points, deflecting calls from live agents. Call center staff no longer answer calls, transfer calls, or assist with common tasks that can be completed with self‑service. Organizations increase call volume capacity, reassign staff, or reduce headcount.
Real‑world business outcomes
Average results for Nuance Voice IVA + Patient Support customers.
40%
Containment rate (percentage of calls that are not handled by live agents)
30%
Self service rate (percentage of calls with a completed self service transaction)
47%
Support cost savings (based on cost per support call and number of calls deflected from live agents)
Features
Powerful technology for simple, satisfying experiences
Surpass the capabilities of basic Interactive Voice Response (IVR) and reduce friction and frustration with Nuance IVA on voice channels. Callers verbalize their needs—faster and easier than choosing from a laundry list of recited options—and are routed to mapped destinations like phone lines, self‑service options, or live agents. Patients get what they need while organizations decrease the number of calls handled by live agents.
Speech recognition and NLU
Our industry‑leading Natural Language Understanding (NLU)—backed by a large, vertical specific data repository—combines with AI technology to deliver superior accuracy, interpretation, and performance. Over voice and digital channels, a single technology platform accepts input from a patient using natural language, understands intent, responds effectively, and learns.
AI‑first approach
Intelligent, integrated technology surpasses performance of traditional IVR and makes it possible to automate more and more interactions. IVA directs callers to the right place, while automatic number identification (ANI) combines with patient data to identify callers and anticipate their needs with self‑service capabilities—reducing the need for a live agent. When only a human will do, live agents with caller activity history and information can resolve patient issues faster.
Analytics and learning
By deploying IVA on phone lines, organizations can gain incredible insight on why patients call. Analytics from a large collection of transcribed utterances help define routing destination needs, predict caller behavior, and identify opportunities to optimize the caller experience. Meanwhile, an automated, AI‑based, scalable feedback cycle uses data from conversations to continuously improve accuracy and scope. Nuance Insights is a powerful way to measure how solutions are performing, ensure they support patients effectively, and validate ROI.
Integration and partnerships
Nuance speech recognition and dialog capabilities power superior contact center experiences through our partners Genesys, Cisco, and Ayaya. The proven technology delivers conversational interactions and maintains context by integrating with organization systems—EHRs (Epic, Cerner, MEDITECH, Allscripts, etc.) and CRMs (SFDC, Dynamics and others)—and using native agent desktops for escalated issues. With our omnichannel capabilities, organizations further enhance the patient experience by sending SMS notifications with helpful links or reminders.
Complementary pre‑built solutions
Our first‑party patient engagement applications use the same NLU‑powered AI technology as leading brands known for excellent customer service. They integrate with organization systems and can be deployed in as little as four to six weeks, so organizations see value quickly—reduced staff workloads, decreased spend on support coverage, shorter call queues.
Appointment Management
Alleviate care team manual work and speed service when patients use voice and digital channels to modify or schedule appointments within an automated, conversational dialogue.
Patient Support
Empower patients to self‑serve telehealth visit preparation and patient portal account access or navigation issues.
Patient FAQs
Extend the convenience of 24x7x365 access to answers to common questions through an interactive conversation on the patient channel of choice.
Rx management
Allow patients to self‑serve prescription refill requests that trigger automatic in workflow approval requests for physicians and refill status notifications for patients.
Biometric authentication
Protect patient data with biometric authentication through Nuance Gatekeeper and replace outdated, vulnerable authentication methods.
Intelligent outreach
Engage patients by automating the delivery of messages over voice, SMS, or email that help patients stay informed and pursue good health.