Don't just chat. Engage your customers with intelligent conversations.
Nuance Live Assist, our AI‑powered customer service solution, simplifies how customers connect with agents, helping increase customer satisfaction, agent efficiency, and revenue.
Deliver superior customer and agent experiences
With Nuance Live Assist, you get more than just a simple live chat solution. We make it easy to connect customers to the agents with the right skillset to address their needs efficiently, and provide AI‑powered support throughout the engagement to help agents increase customer satisfaction and revenue.
Give your customers more control over their journey, with asynchronous conversations. Shorten wait times, reduce agent idle time, and shrink contact centre costs. And empower agents with timely, relevant insights, including information from third‑party systems, to drive more valuable upsell and cross‑sell opportunities.
Benefits
Increase satisfaction and sales while reducing costs
Nuance Live Assist solutions help you get the best from your agents—and give your customers the best possible experience.
Boost customer satisfaction
Offer customers engaging digital experiences that fit around their schedules and lead to fast, effective resolutions. Give agents proactive, timely customer insights to improve service outcomes and selling opportunities.
Improve agent efficiency
Optimise agent efficiency by providing relevant information exactly when they need it and giving them the tools to stay focused on serving customers and closing sales.
Drive new revenue opportunities
Use customer profiles, purchasing history, and an AI‑powered targeting engine to engage customers at the right time and offer personalised incentives and targeted upsell opportunities to boost sales.
Increase operational efficiency
Keep pace with growing contact volumes while controlling costs, using asynchronous conversations to enable agents to handle more concurrent engagements without increasing headcount.
Support omnichannel journeys
Offer real‑time and asynchronous conversations across all digital channels, including web, mobile, branded apps, and messaging channels. And seamlessly orchestrate transitions between your virtual assistant, IVR, and live agents.
Real-world business outcomes
Nuance solutions are proven to deliver meaningful business results.
26%
cost savings in
agent handle time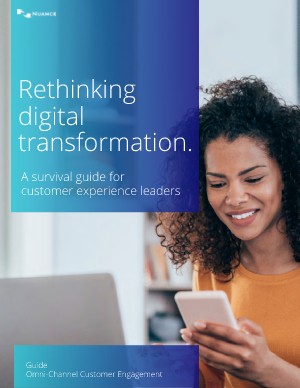 The digital transformation survival guide for customer experience leaders.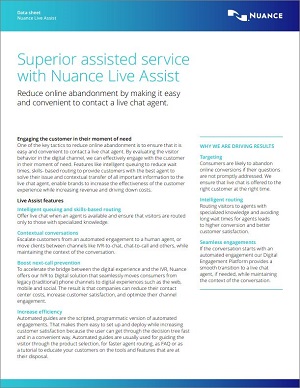 Find out more about the capabilities and value of Nuance Live Assist.
Features
What you get with Nuance Live Assist
Give customers more control, and give agents and supervisors more insights.
Asynchronous conversations
Give customers control to set the pace of the conversation to match their lifestyle and personal preferences while also enabling agents to handle more concurrent engagements. Whether customers respond immediately or pause the conversation, your agents can continue the engagement at any time with all the context intact, and service new conversations that would otherwise have waited in the queue.
Skill-based agent routing and queueing
Assess incoming enquiries and route them based on agents' skillset, availability, and previous conversations with the same customer. In asynchronous conversations, if the original agent isn't available, the conversation—including full context—is directed to an agent with the same skillset to ensure the best outcome and the most efficient resolution.
Admin Portal
Our web-based administration tool lets you easily configure your Live Assist solution, to customise the experiences you offer based on business rules, operating hours, agent workforce and skill parameters, and limits on the number of concurrent conversations per agent.
Targeting engine
Target customers with the right kind of engagement—automated or human‑assisted—at the right time, with real‑time analysis of digital behaviour,, live agent availability, and historical information.
Contextual transfers
Allow customers to toggle seamlessly between channels without having to repeat themselves. Whether customers are switching from an IVR to text messaging, or an automated platform to a human‑assisted conversation, context always follows.
Cross‑platform reporting
Gain complete visibility of self‑service and human‑assisted interactions in every channel, allowing you to continuously optimise customer journeys, identify areas for improvement, and increase conversion and first contact resolution rates.
Third-party integration
Our open, flexible framework allows you to seamlessly integrate with third‑party solutions like virtual assistants and CRM tools to streamline the customer experience and get more business value from your existing investments.
Co‑browse
Enable agents to see the same browser screen as your customers, with secure access to only tagged pages, so they can assist consumers through complex processes online.
Support for speech, text, and rich media
Offer convenient, effective conversations that supports speech, text, and rich media messages —including carousels, forms, images, and videos - and the ability for agents to view these in the Agent Desktop.
Agent Desktop
Nuance Agent Desktop offers valuable insights and intelligently coordinates simultaneous engagements, highlighting relevant information and providing easy access to scripts, customer history, CRM data, and more. And it can be paired with Nuance Agent Coach, which monitors conversations to proactively offer next best response recommendations.
Supervisor Desktop
Nuance Supervisor Desktop provides complete visibility into key metrics across your customer engagement programme, helping supervisors optimise their agent workforce in real time and support agents who need help.
Learn more about how you can provide a simple way for customers to connect to the right agents.