Meet your customers where they are
Nuance Messaging makes it easier to meet customers in the channels they use every day, increasing customer satisfaction and contact centre efficiency.
Engage customers on their terms
Every day, your customers use messaging channels as a simple, convenient way to keep in touch with friends, family, and colleagues. With Nuance Messaging, you can bring that simplicity and convenience to your customer engagements.
Nuance Messaging enables you to connect with customers on asynchronous channels, including SMS, branded apps, Facebook Messenger, WhatsApp, Google's Business Messages, Apple Messages for Business, Instagram, and more. Your customers can control how they engage with you, while maintaining conversation context if they switch channels. And your agents can handle more concurrent conversations, helping you keep costs down.
Benefits
Messaging done right
Take a strategic approach to engaging customers on their channel of choice while improving customer satisfaction and increasing operational efficiency.
Transform contact centre capabilities
Expand your reach and increase your availability to serve customers whenever and wherever they need you, helping you create a more responsive contact centre that generates more upsell and cross-sell opportunities.
Reduce operating costs
Shrink call volumes by offering convenient alternatives that satisfy customers and allow agents to handle more conversations simultaneously. Take advantage of the discoverability capabilities of modern messaging channels to alert customers when messaging is an option.
Increase customer satisfaction
Give your customers the power to engage with your brand on their own terms, without the frustration of waiting on hold. And send relevant notifications that customers can reply to directly, in the same channel—minimising customer effort and promoting brand loyalty.
Improve agent productivity
Connect messaging identifiers, customer data, and individual messages to a conversation, enabling agents to respond to multiple customers faster and more effectively—whether the messages are minutes, hours, or days apart.
Futureproof your solution
Get more value from your existing messaging investments by extending your messaging capabilities into new channels, giving you a platform that evolves to meet changing customer and business demands.
Real-world business outcomes
76%
virtual assistance containment


86%
first contact
resolution


90%
intent recognition by VA across web and WhatsApp channels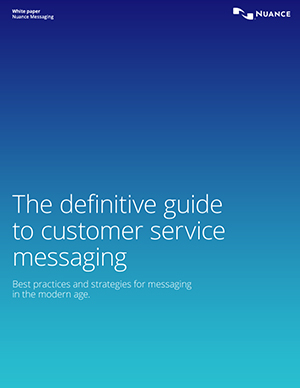 Discover everything you need to know to get messaging right.
Features
What you get with Nuance Messaging
Make it simple to meet your customers wherever they choose to engage with you.
Support for all messaging channels
Offer automated and human‑assisted engagement on your customers' channel of choice, including SMS, branded apps, Facebook Messenger, WhatsApp, Apple Messages for Business, Google's Business Messages, Instagram, LINE, Viber, Telegram, and Twitter Direct Message.
Asynchronous conversations
With asynchronous conversations, your agents can work more efficiently on multiple concurrent engagements, and customers get the convenience of fitting conversations around their schedule.
Rich media
Double, triple, or quadruple the value of your investment with rich media. Use Nuance's universal rich media widgets to deliver a robust, engaging, and consistent experience across messaging channels.
Combined virtual and live assistance
Provide customers with immediate self‑service from an intelligent virtual assistant, with the option to hand off to a live agent when needed, while maintaining the full context of the conversation.
Call deflection
Reduce call volumes by using Apple Messages for Business Suggest and Google's Business Messages to show customers messaging options when they search for your organisation.
Omnichannel insights
Ensure you know your customers however they engage with your brand, by connecting identifiers from different channels with customers' historical data.