Automatic. Accurate. Amazingly intuitive.
Nuance Automatic Speech Recognition (ASR) increases the efficiency of customer self‑service applications, delivering an excellent experience so your brand stands out from the crowd.
Speech recognition without frustration
Nuance ASR brings applications to life. As the foundational technology of our contact centre and customer service engagement solutions, it uses neural network‑based recognitinon to provide more accurate, conversational responses.
Nuance ASR expertise has been perfected over 25 years of delivering intelligent customer self‑service solutions. With over 250 cumulative years of speech R&D experience, we are experts at developing the best quality experience for your customers.
Click here(Open a new window) to read our blog post on how to use intelligent linguistics to speak to your customers.
Get our latest resources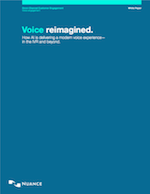 (pdf. Open a new window)

(pdf. Open a new window)
Improved accuracy and confidence
75
languages and dialects recognised
25
years of delivering intelligent self‑service solutions
Solutions & technologies
Making interactive voice response more interactive
Nuance ASR is the foundation of conversational IVR and enhances the caller's self-service experience—all while delivering increased efficiency and automation improvements.

Click here to view our infographic(Open a new window)—"Current State of the IVR" to learn how modernising your IVR can improve the customer experience
Recognizer dramatically increases the efficiency of your automated customer service solutions, offering high recognition accuracy and enabling more contextual, intelligent and conversational interactions.
A core technology behind our conversational IVR and virtual assistant solutions, NLU empowers users to interact with systems and devices in their own words without being constrained by a fixed set of responses.
Our expertise, your success
Nuance professional services leverage years of experience and thousands of successful deployments to offer thought leadership and commitment to your results. We use the latest tools and techniques to design, develop, deploy and optimise your speech‑enabled applications.
Explore professional services
Boost your business with Automatic Speech Recognition technology that improves the customer experience.