Innovative technologies powering our solutions
Nuance solutions are backed by core speech technologies—Automatic Speech Recognition, Text‑to‑Speech, Natural Language Understanding and voice biometrics—to help you deliver seamless and secure self‑service automation.

Turn our expertise into your customer experience
Perfected through years of research and development by leading industry experts, Nuance speech technologies power the solutions that enhance billions of customer interactions every year.
Get our latest resources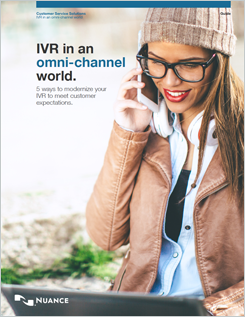 (pdf. Open a new window)

(pdf. Open a new window)
Automatic Speech Recognition (ASR)
Capture speech and accelerate customer self‑service
ASR is the foundation of our automated self‑service IVR and contact centre experience. Accurate, reliable and extremely versatile, this technology enables your customers to interact with the system by simply using their voice.
Nuance Recognizer is at the core of our contact centre automation solutions, delivering the industry's highest recognition accuracy while encouraging natural, human‑like conversations for self‑service customer interactions.
Text‑to‑Speech (TTS)
Self‑service quality you can hear
TTS technology delivers ultimate flexibility in self‑service applications without sacrificing quality. Say hello to the ability to say anything, anytime, anywhere with a diverse voice portfolio, multi‑language capabilities, custom voices and powerful tuning tools.
Nuance Vocalizer is an enterprise‑ready spoken output engine that enhances your IVR experience and enables more human, personalised customer interactions. And it comes equipped with more than 50 languages and over 120 voices.
Say it aloud: Speech solutions deliver for your customers
79%
of consumers prefer speech automation systems (natural language or directed dialogue) to touch tone.
80%
Voice biometrics can authenticate users in five seconds, 80% faster than knowledge‑based authentication
85
Nuance Recognizer features 85 languages and dialects, so you can implement a multilingual self‑service system from Argentina to New Zealand.
Natural Language Understanding (NLU)
Deliver seamless self‑service, naturally
By learning and adapting to your customer's natural input, NLU advances the boundaries of human‑machine interaction and enhances self‑service interactions. As a leader in NLU technology, Nuance brings unparalleled expertise—delivering improved routing accuracy, shorter calls and the know‑how to turn caller intent data into a more conversational, intelligent self-service experience.
Nuance Call Steering lets customers use their own words to describe why they are calling, resulting in a faster, more direct path to resolution while increasing automation, reducing transfers and improving customer satisfaction.
Our Nina Virtual Assistant transforms your website and mobile experiences by engaging your customers conversationally as a human employee would—all while reducing operating costs and increasing shopping basket value and conversions.
Voice biometrics
Securely authenticate with your customer's voice
Discover how a world without passwords, PINs and security questions enhances the customer experience, reduces agent‑assisted service costs and cuts down on fraud. Nuance voice biometric solutions, deployed at the world's most trusted financial institutions and innovative enterprises, enables rapid authentication and improves customer satisfaction.
Replace passwords and PINs with the voice of your customers to deliver easy, efficient and secure authentication for mobile apps, IVRs and even websites.
Transform your call centre experience by eliminating the interrogation process at the beginning of each call—cutting down average handle time and fraud while increasing upsell opportunities.
Learn how Nuance speech technologies are built for your business—and designed around your customers.