Faster, more accurate financial documentation
Easily capture the detailed information needed to complete paperwork, and minimise compliance risk and improve client service—all by voice.

Solving the financial documentation challenge
New Zealand Financial Advisers are facing significant regulatory changes due to the Financial Services Legislation Amendment Act 2019 (FSLA Act), New Zealand. This whitepaper Solving the financial documentation compliance challenges under the new regime will explore ways to meet the new requirements and better your client service.
Get our latest resources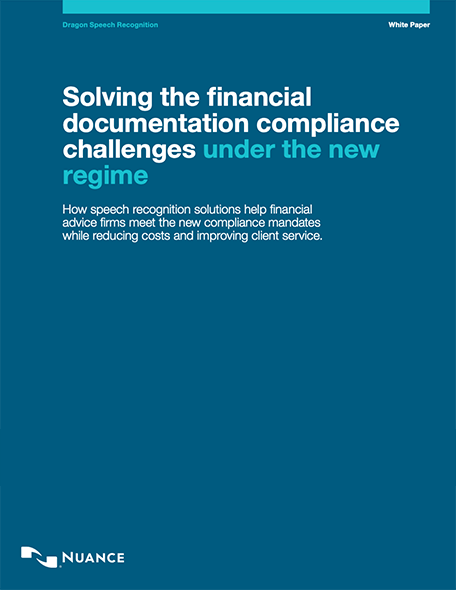 (Open a new window)
Improve financial documentation
Balance paperwork demands and regulatory compliance efforts
Busy financial service professionals face significant paperwork challenges. Increased regulations mean more scrutiny towards document compliance. There is a better way. Improve overall efficiency using Dragon speech recognition and create detailed financial documents—all by voice. All while keeping customers satisfied.
Put Dragon to work
A smart investment for compliance and documentation productivity
Documentation that makes business sense.
Streamline financial documentation tasks to improve overall compliance, efficiency and service.
Streamline transcription needs.
Dictate notes or reports into a digital voice recorder while information is still fresh in your mind. Dragon will transcribe the audio files into text – instantly – when you connect to your desktop computer.
Speed through documentation.
Complete documents faster than ever by voice. Dragon is 3 times faster than typing and up to 99% accurate right out-of-the-box.
Easy deployment for business.
Flexible volume licence programmes and central user administration make it easy to deploy and manage Dragon across your business.
Boost efficiency with customisation.
Customise words for accurate recognition of the industry terms, acronyms or personal preferences you use every day.
Testimonials
Hear what Dragon users have to say
Tony Gillett is a financial planner with over 35 years' experience in his field. Before using Dragon, his biggest challenge at work was accurate documentation and the time taken with administrative work.
International bestselling author, finance and investment expert, radio broadcaster, newspaper columnist and public speaker, Noel Whittaker is one of the world's foremost authorities on personal finance. Here he speaks about his use of Dragon (his number one, indispensable, work tool) & how it has increased his productivity
Solutions
Choose the best speech recognition solution for you