Focus on your business—not paperwork
As a busy professional, a large proportion of your working day may be spent on paperwork—creating reports, writing presentations, sending emails, taking notes in the field and more. Get more done faster, simply by speaking to Dragon—the best productivity software for business.
Meet our professional productivity solutions
See Dragon at work
Let Dragon work for you
Speed through documentation
Fast dictation and high recognition accuracy that continually improves as it adapts to your voice.
Short-cut repetitive tasks
Define simple voice commands to short-cut repetitive processes, speed up document creation and boost your productivity.
Boost efficiency
Add customised words for accurate recognition of the industry terms, acronyms or personal preferences you use every day.
Boost productivity
Simplify documentation demands
Tasks like writing emails, scheduling meetings or updating reports can easily consume 1/3 of your workday. Dragon puts your voice to work for increased productivity and efficiency:
Speed through document creation–3x faster than typing
Use voice commands for recurring tasks
Give your wrists a rest and reduce repetitive stress injuries
Save valuable time
Make every second count
Visiting customers, attending events and travelling from meeting to meeting may leave you saddled with a backlog of paperwork. With Dragon and a digital voice recorder, it's easy to capture notes on the go—while the details are still fresh in your mind—for later transcription.
No more scribbling notes on paper
Save time and eliminate expensive transcription costs
Get work done no matter where the job takes you
Featured webinar
Learn how Dragon works for business
We all want to work faster and smarter, and productivity software like Dragon speech recognition can help. View this informative webinar to learn how Dragon can help improve your productivity – and reduce costs – all by voice.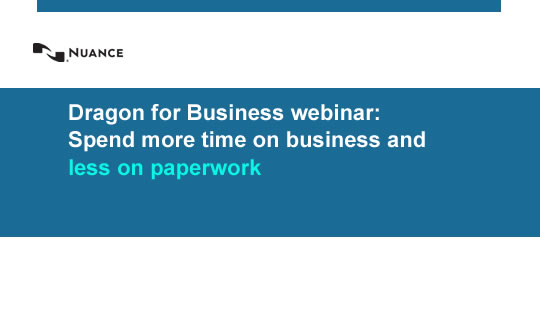 Why attend this webinar?
See a fast and efficient way to create documents using your voice
Learn how to speed up data entry, form filling, email communication and more
Find out how to capture notes – anytime, anywhere – for later transcription
Discover a more comfortable, less taxing way to use your computer
Fill out the form and view the on-demand webinar.
Dragon will never leave you speechless.

Product comparison
Learn which product is right for you and your department
Customer or tech support
Find the answers to your product questions
Talk to us about increasing the productivity of your small business with speech recognition