An essential tool for the modern legal professional
Speed legal documentation times, improve accuracy and client service with Dragon.
The modern legal workplace
Explore the insights from our recent international survey to understand how the legal sector is embracing the new way of working
Visit our infohub
Artificial Intelligence that reduces costs
Don't let typing hold you back and achieve:
Faster, more accurate document creation
Streamline processes, save time
Focus your time on billable work
Improve customer service and satisfaction and enhance reputation
Ensure compliance and reduce risk
Reduce administrative & transcription costs
Download our latest resources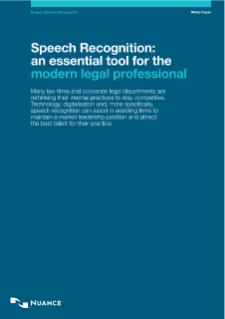 Speech recognition: an essential tool for the modern legal professional
This white paper discusses some of the legal profession's most pressing cost and productivity issues and how technology, digitalisation and more specifically, speech recognition can assist.
Get it now

(pdf. Open a new window)
Our benefits
Accurate dictation and transcription, for effective and secure documentation
Rising to external challenges
Fast and easy to install, it allows you to add customised words, industry terms, acronyms and personal references.
Leverage Nuance Deep Learning technology
With a next-generation speech engine powered by Nuance Deep Learning technology, Dragon achieves high recognition accuracy while dictating, even for users with accents or those working in open office or mobile environments.
Speed up documentation, enjoy fast dictation and high recognition accuracy that constantly improves as it adapts to your voice.
Automate repetitive workflows and improve efficiency.
Create custom voice commands to insert standard clauses into documents or create time-saving macros to automate multi-step workflows by voice.
Eliminate or reduce transcription time and costs
Reduce dependencies on outsourced transcription services or reallocate support staff to more high-value tasks.
Reduce repetitive strain injuries (RSIs)
Reduce the symptoms of RSIs or proactively prevent further injuries by reducing the physical strain of typing.
Let Dragon work for you
Don't just take our word for it
Richard Graham is a lawyer at Vogt Graham Lawyers in Perth, Australia.
Here, Richard discusses how Dragon has helped him with the heavy documentation faced by most legal professionals.
Solutions
Choose the best speech recognition solution for you
See the benefits of Dragon in action
Schedule a demo and see how Dragon empowers legal teams, speeding up documentation 3x times faster.