Discover how to put your omni-channel analytics to work
What can analytics do for you?
It's one thing to collect and analyse data from your contact centre, but taking action requires a deep understanding of what that data is telling you.
To get real value from your customer interaction analytics, you need actionable insights. That's where we come in.
Get our latest resources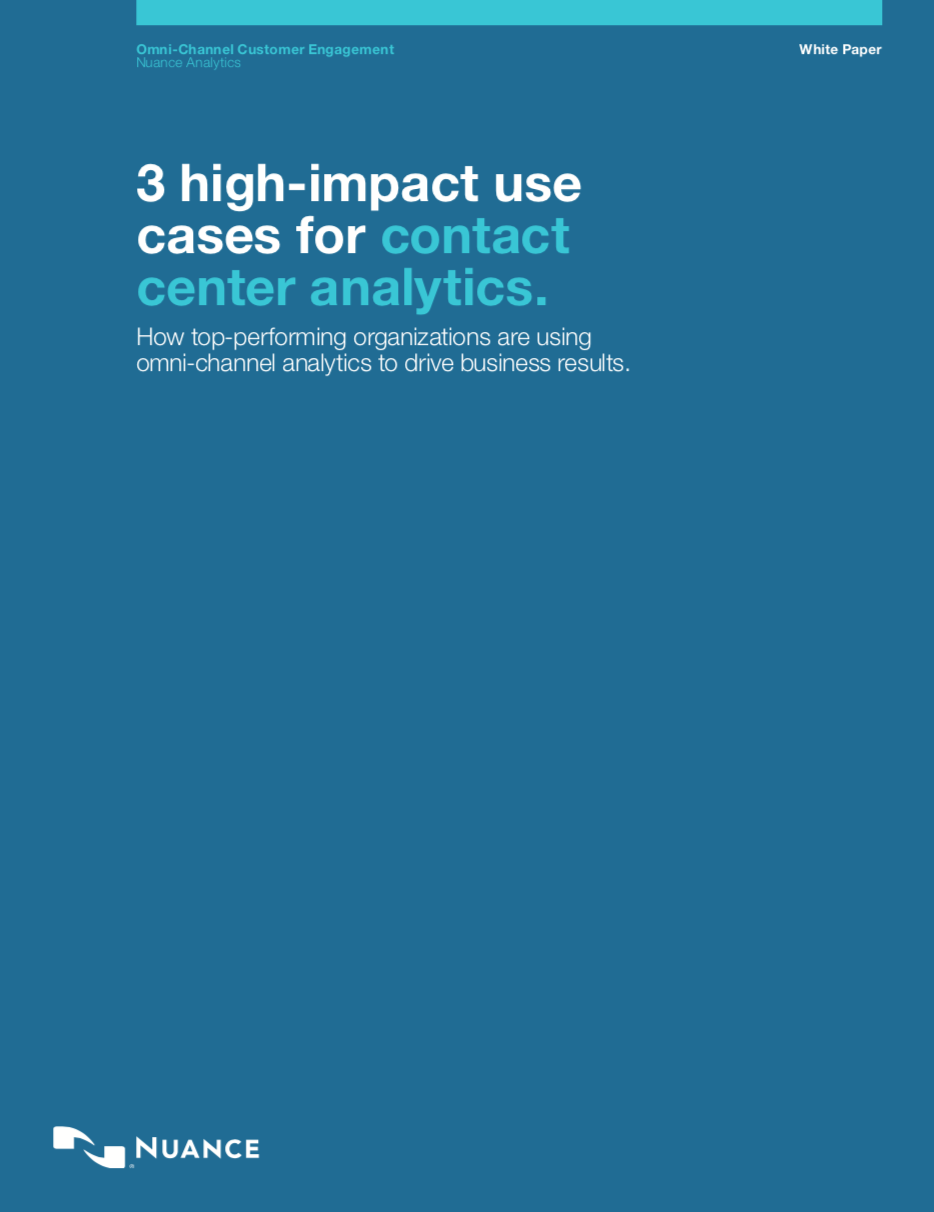 (pdf. Open a new window)
(pdf. Open a new window)
Use contact centre analytics to your advantage
Customer experience
Understanding the conversations you're having with all your customers—across all your engagement channels—is the key to delivering customer experiences that are smarter, more consistent and more likely to bring people back to you.

By analysing interactions across every channel, you can build a single, cohesive view of the customer—so you can make sure your agents follow best practices, predict their callers' needs and guide them to the best path of action.
Contact centre efficiency
Analytics solutions built specifically for contact centres have a major impact on key processes that can kill your efficiency, such as monitoring chats, transcribing calls, auditing and dispositioning.

Optimising your processes can be as simple as refining your scripting. In a typical 50‑agent contact centre, with each agent making 50 calls per day, reducing silence by as little as 10% can save up to $38 per call.
Performance management
Your contact centre agents work best when they're well-trained and happy. By using analytics to identify best practices, you can coach your agents to interact more effectively, thereby reducing hang‑ups, improving first‑call resolution rates and boosting caller satisfaction.

Using customer interaction analytics, one of our clients improved employee satisfaction by 26% and saw sales rise by 48%.
Sales effectiveness
Your customers contact you for many reasons—but some of those contacts are hot leads. To convert leads effectively, you need to understand exactly how to respond when they call.

Predictive analytics help you identify and prioritise top‑rated leads, giving you the opportunity to automatically route them to your best salespeople or even bump them up in the call queue.
Risk Management
The analytics capabilities you use to identify and encourage best practices can also be used to prevent compliance violations.

You can set your analytics solution to automatically monitor the kinds of interactions that deviate from accepted language or risk contravening legislation around consent or disclosure—or even proactively prompt agents during calls if a risk is identified.
Fraud protection
Fraud is becoming more sophisticated, but it still often relies on gathering easily accessible information about customers that can be used to trick unsuspecting contact centre agents.

With analytics, you can automatically cross‑check inbound contacts against databases and blacklists of known fraudsters, and identify patterns that likely indicate fraud, such as repeated incorrect verification attempts from the same IP address.
Your analytics. Our expertise. Simple.
When you implement your analytics solution, our Professional Services team will give you the guidance to bring it all together and make it work seamlessly.

With 20 years of systems integration and implementation experience, we've learned plenty of skills as the global leader in speech technology — and we'll use that expertise to integrate and optimise your analytics solution so it delivers on all its promises.
Explore professional services
Ready to explore the power of analytics?
Have a chat with one of our friendly experts today and see what you can achieve by digging into your data.