Simplified and seamless—creating a superior shopping experience
With more options and higher expectations, customers are seeking more unified, personalised and seamless experiences from retail organisations—whether those interactions occur in stores, online, remotely, or in any combination of the three. Learn how cutting-edge voice, digital, and messaging solutions can transform customer experiences—and improve business operations.

Top 5 reasons why retail chatbots fail (and how to fix them)
There's no doubt that chatbots and virtual assistants can help any retail brand deliver stand out shopping experiences. But it's not as easy as spinning up a basic bot and letting it loose on your customers.
Download your copy of our eBook today and learn how you can improve your customer experience while increasing ROI.
Get our latest resource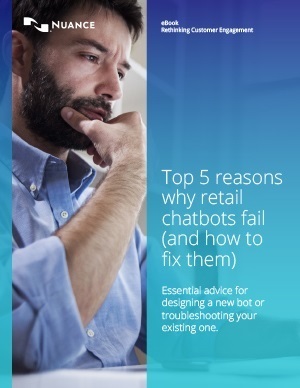 Download the eBook to uncover essential advice for designing a new bot or troubleshooting your existing one.
Download eBook
Improve customer acquisition, engagement, and retention
Nuance AI-powered, omni‑channel platform delivers extraordinary results for retailers from seemingly subtle changes.
23%
increase in overall sales conversion rate with live chat at tier-one mobile carrier
30%
reduction in transfers out of IVR at leading eCommerce retailer
Benefits
Engage customers throughout the omni‑channel retail journey
Enhance effectivity, improve acquisition, and increase average sale by removing friction across channels.
Predict & personalise
(Play a video)
Tailor experiences based on customer expectations using the power of Artificial Intelligence

Using multiple customer data points the Nuance Prediction Engine delivers a streamlined intuitive experience. Combining this capability with enhanced Natural Language Understanding and our AI capabilities provides shoppers with hyper‑personalised recommendations.
Empower agents
(Play a video)
Enable better buying experiences and build brand loyalty by enhancing agent performance

Take advantage of Agent AI to improve agent productivity and create a more satisfying customer experience. Help agents optimise dialog with recommended responses and provide easier access to relevant, real‑time insights. Leverage sophisticated, smart tools to boost agent confidence, efficiency, and effectiveness.
Prevent fraud
(Play a video)
Dramatically reduce risk of fraud and protect your brand

Improve both customer and agent satisfaction with easily integrated, highly scalable multi‑modal biometrics from Nuance Gatekeeper. Streamline acquisition and support by authenticating naturally using voice, behaviour and more.
Reduce costs
(Play a video)
Lower operating costs and while maintaining a consistent customer experience

Whether answering questions in a virtual assistant, containing calls in the IVR, or seamlessly routing inquiries to the most appropriate chat or phone agent, Nuance solutions save agent time and cost. Save money by deploying one platform and one dialog.
From complicated and time consuming, to simple, secure, and efficient engagements
See how using intelligent engagement capabilities can make all the difference in retail. Help provide the level of service your customers have come to expect.
Solutions
Deploy solutions designed to thrill customers
We understand the demands of retail. Let's work together to meet them.