Authenticate customers with biometrics
As the market leader in multimodal biometric authentication, Nuance can help you identify and verify your customers—simply and securely with their voice, behaviour and other characteristics.
Multi‑modal biometrics: Simpler, stronger customer authentication
Start each customer interaction with effortless authentication. Nuance has pioneered many applications for voice and facial biometrics—passive and active authentication, fraud prevention, public security to provide solutions to organisations worldwide.
Now enterprises can enhance security and provide customers with a choice of how they authenticate themselves. The popularity of biometric authentication has exploded in the past few years. According to Opus Research, there will be more than a half‑billion voiceprints alone by 2020. It's not hard to see why, as people become more and more comfortable with biometric authentication, enterprises are using multi‑modal biometrics to improve security while keeping customers happy.
Get our latest resources
(pdf. Open a new window)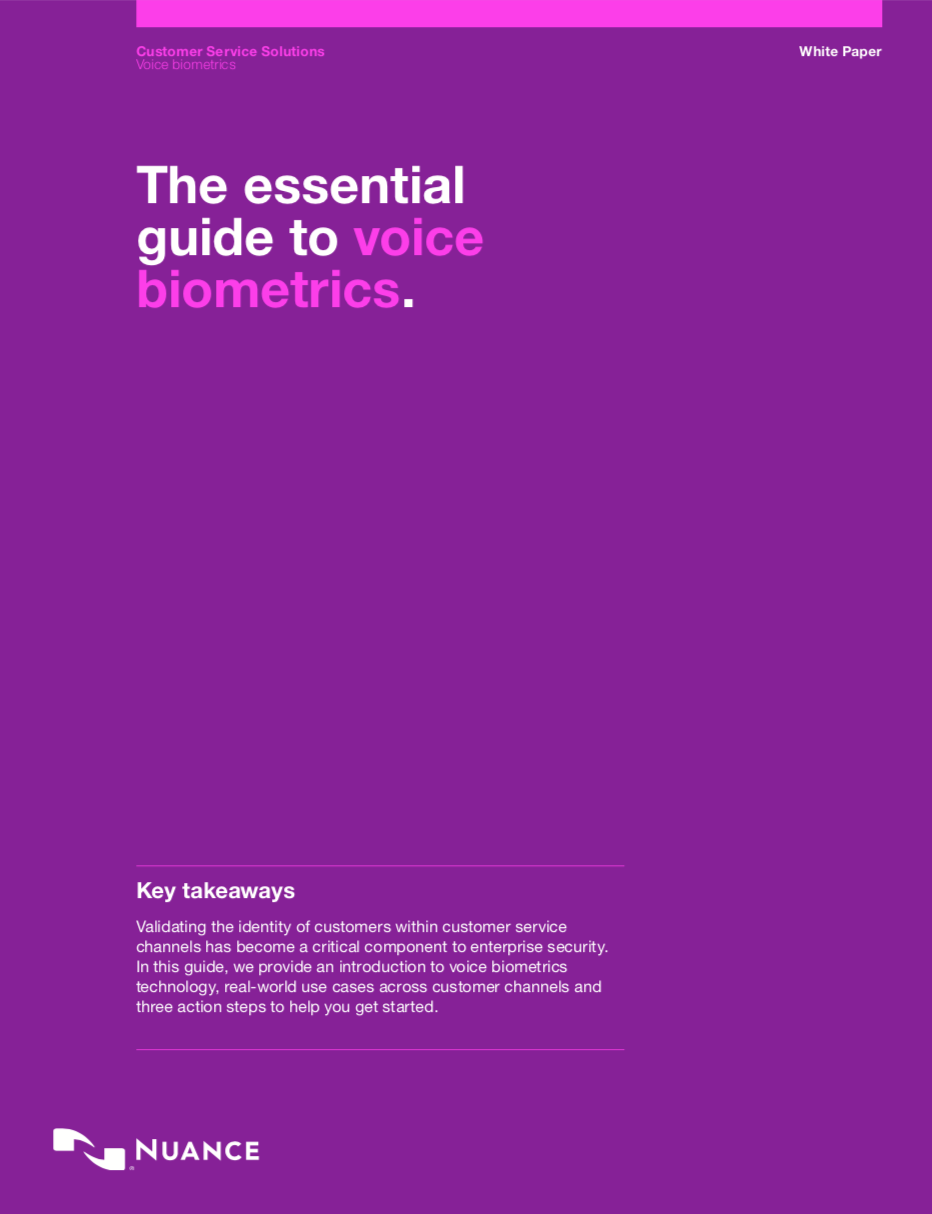 (pdf. Open a new window)
Secure biometric authentication: a customer's view
What makes a customer happy? Being able to get right to their problem without having to prove who they are. With Biometric technology from Nuance, customers increase their satisfaction by authenticating naturally with the sound of their voice, face or even the way they interact with the device.
Authenticate your customers with a passphrase like "My Voice is my password".
Authenticate your customers without interrupting their request.
Give your customers the choice of Facial Recognition on their smartphone.
Continuous authentication to make sure that the customer with the login is really the customer.
Happy customers & happy agents
Your customers want to have a choice. With multi-modal biometrics, they can choose the authentication mode that matches their situation. On a crowded bus, it may be easier to authenticate with a selfie rather than a voice password. When customers are authenticated without having to be interrogated, both the customer and the agent are happier.
Secure accounts stop fraud
PINs, passwords and challenge questions are inherently insecure. Fraudsters can buy credentials online and find personal details easily on social media. Enterprises can provide two‑factor authentication with multiple biometric modalities without having to rely on unsecure PINs and passwords.
ROI from day one
Whether it's shorter call times, increased functionality or the ability to do amazing new things with your mobile apps, voice authentication can deliver from day one. It's a critical investment in security.
Heed the call of smarter authentication
49%
of users say authentication is time‑consuming and frustrating.
67%
of mobile users reset passwords at least once a month and usually reuse a password.
5X
On average, an account takeover incident costs consumers five times more than any other type of fraud.
Fingerprint biometrics
In 2013, Apple Computer revolutionised the biometric market by releasing the iPhone 5s with TouchID. This allowed apps to easily integrate fingerprint biometrics. Followed quickly by Samsung and Android, there are now hundreds of millions of customers using their fingerprint to authenticate within their phone.
Facial biometrics
With facial recognition, the user takes a picture of themself in real time that can be compared to a face on file. The system today can achieve high levels of confidence by overcoming facial variances, and new technology will provide liveness detection where the system can easily determine whether the customer is using a photograph.
Behavioural biometrics
Behavioural patterns, such as how a person types, uses a mouse or even how they pause when accomplishing a task, create a profile of the user that can be compared to an expected profile. It excels at continuous authentication where a user is constantly compared to their profile to make sure that someone else has not hijacked the session.
Voice biometrics
Voice biometrics work by comparing a person's voice to a voiceprint stored on file. The voice is analysed for over 140 factors against a voiceprint that is impossible to spoof or duplicate and cannot be reused if stolen. Voice biometrics can be applied to secure self-service applications and can even listen to a conversation with an agent to provide effortless authentication. Voice Biometrics can be Active, where the user states a passphrase, like "my voice is my password", which enables companies to create in-depth self-service digital channels in an app or website that can handle secure transactions. Additionally, voice biometrics can be Passive, to "listen" in the background of a conversation with a call centre agent. This comparison happens in the background, with no additional input from the customer, and is authenticated in as little as 10 seconds.
Using voice biometrics for customer authentication
Leading financial institutions are leveraging voice biometrics to keep customers secure—and fraudsters at bay. Watch this video to hear about the benefits voice biometrics provides for your customers and your organisation.