AI innovations for an omni‑channel world
Deliver world‑class, differentiated customer experiences with Nuance omni‑channel customer engagement solutions.
Leverage our decades of experience delivering award‑winning AI
For more than 20 years, we've helped global market leaders transform the manner in which they deliver on their customer experience, cost reduction and growth KPIs through intelligent systems powered by AI. Automatic speech recognition (ASR), natural language understanding (NLU), text‑to‑speech (TTS), biometrics and more—we've been at the forefront of driving innovation in these AI technologies for decades and delivering award‑winning commercial AI systems for customer engagement.
Today, our AI-powered solutions for omni‑channel customer engagement are used by the world's largest organisations to deliver personalised, consistent experiences to consumers across interactive voice response (IVR), web, mobile, IoT and messaging channels. Through intelligent systems built with AI, using technologies that are AI, and are smarter, safer, scalable and easy to use.
Nuance recently announced an expansion of its Cognitive Innovation Group (CIG) focused on applying the latest advancements in machine learning and artificial intelligence.
Get our latest resources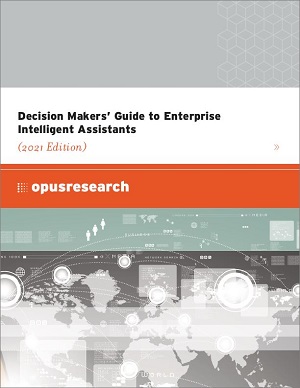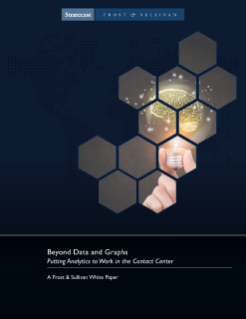 (pdf. Open a new window)
Our approach
AI innovation focused on your customers and your business
Today, we're working with customers to drive AI innovations throughout the customer lifecycle through our focus on prediction, conversation and analytics backed by cognitive engines and human assistance.
Prediction
For large organisations that field billions of customer interactions each year, the ability to anticipate and resolve customer needs before they arise has enormous potential to drive customer satisfaction up and costs down.

Predictive solutions utilise customer profile data for insights into an individual's needs and preferences from prior interactions across all channels to determine intent and select the best agent or resource to service their needs, including:
Recommending the next best action to satisfy a consumer's need through an IVR, virtual assistant or live agent
Minimising churn by identifying and tracking signals that a customer may be close to buying a product or cancelling their service based on web activity, words, tone or sentiment
Proactive notifications for relevant, useful assistance or customised deals
See how Nuance Prediction Service helps you deliver improved customer experiences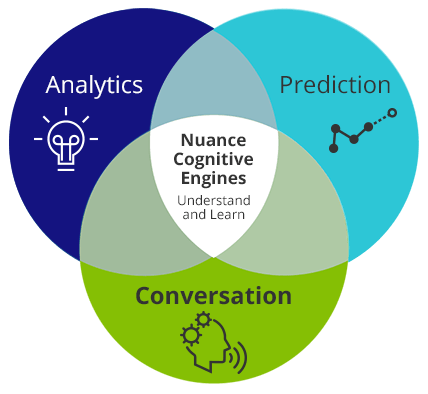 Conversation
Conversational AI lets consumers engage in natural interactions through text or speech to gain immediate access to information and easy, effortless outcomes through IVR, messaging or Web channels.

This enables organisations to deliver omni‑channel experiences that originate in or through the channel or device of a consumer's choosing and to navigate seamlessly across channels in order to achieve their desired outcome. Conversational AI comprises speech recognition, NLU, TTS technologies powered by machine learning algorithms to enable:
Conversational dialogue, where a conversation is required for the system to discover the customer's interest or need, gather the necessary information to assist and deliver the desired outcome through self- or assisted‑service.
Personalised, "one‑shot" answers using NLU to derive concepts and meaning from user intents in addition to complex answers that require database queries
Analytics
Analytics deliver valuable insights into consumer preferences, behaviour, sentiment and intents that can be used to deliver differentiated experiences throughout the customer lifecycle. Taking a customer journey‑focused approach to analytics is a key driver of success in today's omni‑channel world. Areas it can be applied include:
Human assistance
Human assistance is key to the success of AI. Intelligent systems have evolved to the point where they can predict and take action, but they cannot infer, judge and make decisions that require human intelligence in the conventional sense.

With AI for customer engagement, individuals with specialised skill sets will always be needed including:
Engineers and researchers to build AI technologies and intelligent systems
Speech scientists to classify and label interaction data, discover intents and perfect NLU grammars and dialogue
Data scientists to designate, review and fine-tune algorithms that drive how predictive engines behave and biometrics systems perform
Live agents to service customers through live chat, via phone and train/coach virtual assistants
Professional Services teams to apply deep domain and vertical expertise to design, develop, deploy and optimise state-of-the-art customer engagement solutions