Streamline the claims processing workflow
Reduce the time it takes to complete documentation, improve response to customer claims, and improve processing workflows with Dragon enterprise-ready speech recognition solutions.
Benefits
Work better, faster and smarter—by voice
Field agents and adjusters can spend as much as 50 percent of their day typing reports and completing other paperwork. Lengthy manual input for forms and reports slows down response to customer claims and can compromise the quality and thoroughness of reports. There's a better way. Empower employees to create-high-quality documents faster and more efficiently—in the office or out in the field—simply by speaking.
Cut documentation completion time
Turn your voice into text 3x faster than typing with up to 99% recognition accuracy. Dragon can be used with virtually any Windows-based application to speed document creation.
Improve report quality and specificity
Dictate your notes to capture more detail and specificity. And, because you no longer have to recall details from hours before, produce more accurate and complete reports.
Streamline the claims processing workflow
Manage more claims with greater thoroughness and higher quality, saving hours on daily paperwork. Automate tasks within your workflow and move claims faster for improved customer service.
Work on-the-go
Be more productive out of the office or working in the field by dictating notes using a digital voice recorder or Dragon Anywhere, our mobile dictation app for iOS and Android. Sync back work with Dragon on the PC.
Reduce paperwork burnout
Reduce paperwork burnout by improving the time it takes to complete claims documentation. Eliminate tedious administrative tasks and fatigue for better productivity and efficiency, agency-wide.
Manage large user networks
Centrally manage voice profiles, custom vocabularies, and multiple installations. Robust security and configuration options enable administrators to control Dragon usage across the enterprise.
Meet our productivity solutions
Dragon Professional Anywhere
Accelerate productivity and save money for your organisation with flexible, cloud‑hosted speech recognition that integrates seamlessly into enterprise workflows.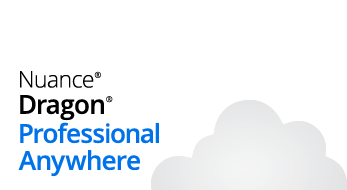 Dragon Professional v16
Short‑cut repetitive steps and create accurate documentation 3x faster with robust, highly customisable speech recognition. Optimised for Windows 11, v16 increases productivity with an unmatched suite of functionality that cuts costs for individual professionals and large organisations.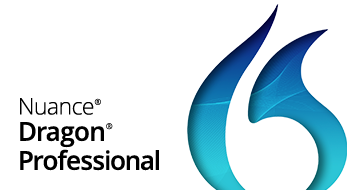 Dragon Anywhere Mobile
Extend your enterprise‑wide documentation capabilities with professional‑grade mobile dictation that allows you to create, edit, and format documents of any length and share information directly from a mobile device.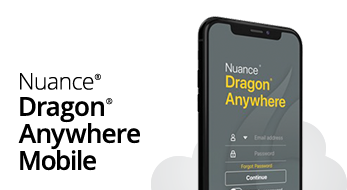 Improve enterprise mobility
Improve documentation and reporting for your mobile workforce
Enable your employees to maximise their time away from the office and be productive no matter where business takes them. Employees can dictate documents and complete other paperwork using their phone, PC, or using a microphone or mobile device. Nuance Winscribe Dictation then lets them easily share and send their work to the office, an outsourced transcription provider or to the Dragon Speech Recognition engine for transcription.