Get documents done anywhere
Dragon Anywhere version 1.9 update


Mobile dictation made easy
Dragon Anywhere professional‑grade mobile dictation makes it easy to create documents of any length and edit, format, and share them directly from your mobile device when visiting clients, a job site, or your local coffee shop.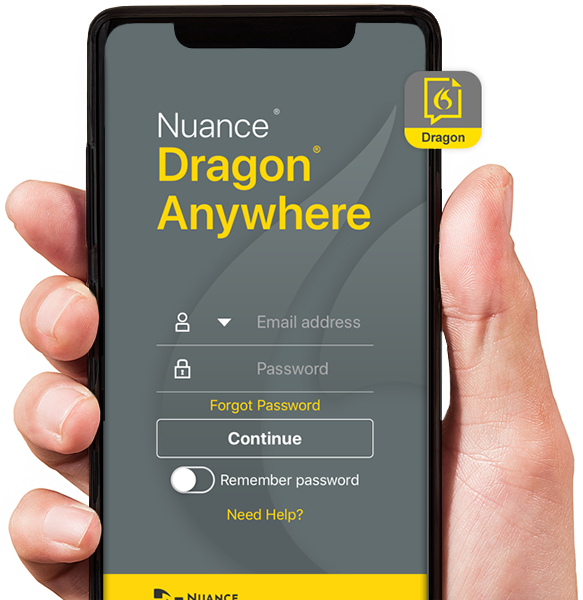 Continuous dictation and no word limits
Up to 99% accurate with powerful voice editing and formatting
Correction Menu to easily correct spelling
Train Words feature to teach Dragon how you speak
Access customised words and auto-text across all devices
Share documents by email, Dropbox, and more
Dragon Anywhere, available on Android and iOS
Dictate documents of any length, easily edit and adjust formatting, and quickly share on the most popular cloud‑sharing services, directly from your iOS or Android smartphone or tablet. Available in the US and Canada.


1 week free trial

Cancel anytime. £10.99/month subscription begins at the end of trial.
1 month
Billed every month.



12 months
Save 17%. Billed once a year. Best value.


Volume licenses
For workgroups or enterprise.




Maximise on‑the‑go productivity
Dragon Anywhere lets you dictate and edit documents by voice on your iOS or Android mobile device quickly and accurately, so you can stay productive anywhere you go.
Fast dictation and high recognition accuracy that continually improves as it adapts to your voice.
Robust voice formatting and editing options, including the ability to select words and sentences for editing or deletion.
Support for Auto‑texts (frequently used text passages) such as client or work order descriptions.
Simple importing and exporting to and from popular cloud document-sharing tools like Dropbox® and note‑taking apps like Evernote®.
No time or length limits: speak as long as you want to, capturing all the details needed for complete, accurate documentation.
Voice‑navigate through fields of a report template and apply common formatting like underline and bold.
Add custom words and industry‑specific terminology for even better dictation accuracy.
Accessing your Dragon Anywhere app is easy...
Purchase your Dragon Anywhere subscription from this online store, which will set up your user account.
Download the iOS and/or Android app from an app store.




Launch the Dragon Anywhere app and enter the email address and password you specified in the online store.
Dragon Anywhere in action
Watch, read, and learn
If you're a busy professional who needs to take detailed notes or dictate documentation on the go, see why Dragon Anywhere is right for you.
Document management
Easy document management that means business
When you're ready to share your dictation with your other devices or colleagues, simply use your voice to email your document or save it to the cloud. Import existing documents for further editing on your mobile device. With Dragon Anywhere, you can:
Email dictated text
Share documents to cloud storage
Import documents from cloud storage
Open dictation files in Word
Save your dictation to Evernote as a new note
Copy and paste dictated text via OS functions
Sync with Evernote and access your notes everywhere
All dictated notes captured using Dragon Anywhere can be synchronised with Evernote. Your notes, documents, and more are instantly available on all your devices, wherever you go.
Import or copy notes into Dragon Anywhere so you can edit and dictate with your voice
Powerful integration keeps your notes in sync and accessible wherever you are
Access your content from any device
Available on iOS only
Synchronise Dragon with your PC for seamless productivity
Get more done whether you're on the road or in the office. Custom words and Auto-text commands are automatically synchronised with your locally installed version of Dragon Professional (for supported editions) the next time you log in so you can work seamlessly by voice anywhere you go.
Switch between your desktop and Dragon Anywhere to complete documents with the benefit of synchronised customisations
Dictate on multiple mobile devices, provided you use your personal account to automatically synchronise all customisations
Cloud-native Dragon Professional Anywhere customers with Nuance Management Center may additionally synchronise customisations—like Auto-texts—with Dragon Professional and Dragon Anywhere for iOS and Android
Improve enterprise mobility
Improve documentation and reporting for your mobile workforce
Empower field workers, lawyers, social workers, insurance adjusters, public safety officers, and other professionals to keep up with documentation demands even when they are away from their desks. With Dragon Anywhere you can easily integrate our cloud‑based, professional‑grade mobile dictation solution into your mobile documentation workflow and enable mobile professionals to complete documentation requirements in real‑time—by voice—via iOS and Android smartphones and tablets.
System requirements
Compatible with Android 7.0+ phones and tablets
Compatible with iOS 10.0+ 64- bit phones and tablets (iPhone® 5+, iPod® touch 6+, iPad® 5+, iPad Air, iPad Pro, or iPad mini 2+)
Active Wi-Fi or cellular connection


Data policy
By using Dragon Anywhere, you expressly consent and agree that Speech Data, which may contain personal information, shall be stored and processed in the United States. "Speech Data" means the audio files, associated text, transcriptions and log files provided by you or generated in connection with Nuance products.
Volume licensing
Ask about subscription‑based volume licensing programs and put your mobile voice to work. Talk to us about optimising mobile documentation across your enterprise with Dragon Anywhere.