Take the next step with Dragon
Embrace mobile working and give your clients timely, high quality service with Dragon speech recognition software - a great addition to the team.

A great resource front and back office
Dragon brings significant productivity advantages to the accountancy, finance and insurance workplace
Security
Achieve great data security with 256-bit encryption for all data both in transit and at rest.
Compliance
Enjoy regulatory compliance while your client's data and yours remains always safe.
IT Support
Patches and security updates automatically deployed by us to ensure no hardware failures.
Speed
Through innovative technology to ensure competitive advantage across your field.
Focus
On what matters most. Better client services and billable work.
Flexibility
Work anywhere, any time. Scale to fit your needs collaborating across teams.
Accuracy
Use technical and special vocabulary reducing the need to edits and revisions.
Satisfaction
Enhance customer appreciation and grow your business reputation.
Reputation
Grow your reputation
Collaboration
Instantly share documentation across different teams
Resources
Compliance, speed and accuracy are all crucial to the finance professional.
Learn about how Dragon speech to text software can help your business in our guide Speech Recognition and the Finance Professional.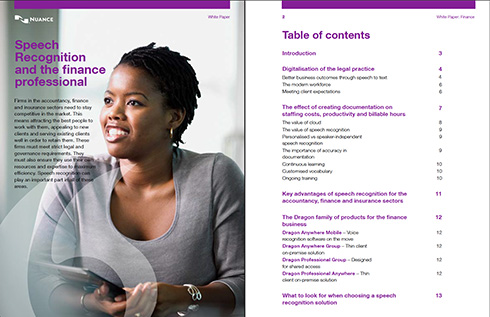 Testimonial
Hear what a Dragon user has to say
International bestselling author, finance and investment expert, radio broadcaster, newspaper columnist and public speaker, Noel Whittaker is one of the world's foremost authorities on personal finance. Here he speaks about his use of Dragon and how it has increased his productivity.