Lightweight versatility, heavyweight performance
Thin client speech recognition for the enterprise has arrived; empowering your workforce to create high‑quality documentation, saving your business time and money with Dragon Professional Anywhere.

Work better, faster and smarter with accurate dictation and transcription
Specialized legal vocabulary
Trained using millions of words from legal documents to deliver optimal recognition accuracy for dictation of legal terms. Also enables automatic formatting of legal citations.
Always latest speech recognition engine
Cloud‑based technology ensures legal professionals have access to the most recent updates and all users are working with the same software version.
Fast, accurate and highly customizable
(Open a new window)
Fast, extremely responsive, and highly accurate out‑of‑the-box enterprise speech recognition with speech profiles that can be accessed across multiple devices.
Leverage Nuance Deep Learning technology
With a next‑generation speech engine powered by Nuance Deep Learning technology, Dragon achieves high recognition accuracy while dictating, even for users with accents or those working in open office or mobile environments.
Easy to install and maintain
No complex configurations, one‑click installation, and automatic updates mean less work for your IT staff, less hassle for your team, and users can be up and running within minutes.
Anchor Focus Dictation
Allows attorneys and support staff to anchor the text transcription within a particular document, even as they have their cursor and mouse positioned in another window (i.e. when referencing a web‑page).
Thin client support 
Support for thin client hardware, server virtualization, as well as Citrix environments. Allows for fast and easy integration into existing IT infrastructure.
Support for virtualized environments
Supports Citrix XenApp®, Citrix XenDesktop®, VMware® Horizon View, RDSH Server or Microsoft® Remote Desktop Services, enabling users to dictate from workstations and thin clients.
256-bit Encrypted Data
The client connects to a server component that is installed using 256‑bit encryption. Data is encrypted in transit and at rest.
Central user administration
The Nuance Management Center makes it easy to track employee usage of Dragon, redistribute licenses based on usage, and manage or share customizations, including custom words, commands and auto‑texts.
Robust documentation
The problem: documentation overload
Most organisations face increasing documentation demands, and already recognise the efficiencies and savings that voice recognition solutions can drive across their workforce. Enterprises typically, have restricted deployment options due to their existing IT infrastructure or have discovered traditional solutions can be tricky to administer, slowing local machine performance upon deployment.
The solution: Dragon Professional Anywhere
The lightweight client application downloads and installs in minutes providing a secure connection to your on‑premise data centre or partner hosted solution. Support for leading virtualised environments makes it simple to integrate into your existing IT infrastructure, whilst dynamic profiles allow staff to start dictating with Dragon on any shared PC with no setup required.
Deployment solutions
Dragon Professional Anywhere has two deployment options, delivering an enterprise‑ready dictation solution to the end user:
On Premise:
Host the solution within your own on‑premise data centre
Define your own hosting and security requirements
Full deployment control to existing infrastructures
Partner Hosted:
Hosted solution available from our selection of trusted partners
Secure and hassle free; use the solution without the cost and effort of maintenance
Choose from either monthly or annual billing (12 month minimum term)
Nuance Management Center
Centralised user administration made easy
Documentation overload
Too much time spent on inefficient administrative work.
Document backlog and missed deadlines
Inaccuracy and risk of noncompliance
Time/cost of transcriptions
Cost of deployment and maintenance
Inefficient use of time when in the field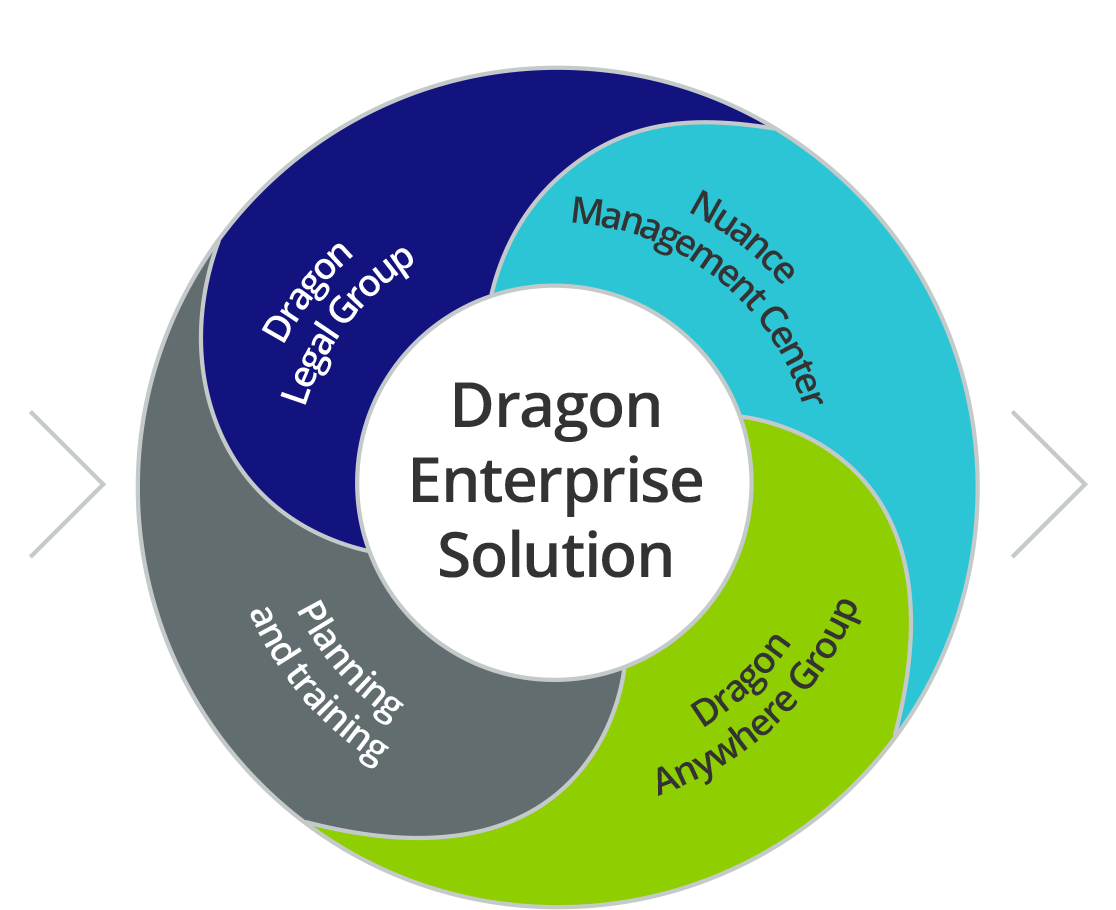 Solution benefits
More time to focus on clients or drive your core business.
Increased efficiency and productivity
Improved accuracy and compliance
Reduced transcription time and costs
Efficient, centralised management
Higher documentation productivity when in the field
Nuance Management Center (NMC) makes it easy to track usage and centrally manage licences, user accounts and profiles, administrative settings, and custom words and commands across the enterprise. Dragon Professional Group speech recognition software coupled with NMC and goal‑driven project management and services, provides a complete enterprise-ready solution that meets your organisation's specific documentation productivity requirements to improve the corporate bottom line.
Volume licensing
Built for teams, built for enterprise. Ask about flexible licensing programmes with no seat counts or auditing.
Volume orders
Need help? We have you covered.