Manage case worker documentation by voice
Reduce the time it takes to complete case‑related paperwork and spend more time successfully serving children, youth and families.
Top case worker features
An easier way to complete case information
With Dragon, case workers can increase efficiency and speed up data entry within SACWIS systems by turning their voice into text three times faster than typing.
Improve immediacy and accuracy of reports
Documentation is critical not only for compliance purposes but also for facilitating transfers and research. Replacing the frustrating process of typing with the ability to create reports by voice leads to more complete, detailed and consistent case documentation.
Deliver greater productivity
Dragon can help case workers better manage workloads and assist with the increasing demand for accountability.
Manage communication more effectively
Like most professionals, case workers are bombarded with email every day. By enabling them to compose, send and manage email entirely by voice, Dragon delivers productivity gains so case workers can get more done in any given working day.
Increase job satisfaction
Emerging tools, such as Dragon, can help agencies better support case workers, increase speeds of service delivery and improve worker satisfaction so they can better retain qualified employees.
See Dragon at work
Let Dragon work for you
Speed through documentation
Get fast dictation and high recognition accuracy that continually improves as it adapts to your voice.
Dictate anytime, anywhere
Integrate with the separate, cloud‑based Dragon Anywhere for Android and iOS mobile devices and dictate and edit documents wherever your job takes you.
Short-cut repetitive tasks
Define simple voice commands to short‑cut repetitive processes, speed up document creation and boost your productivity.
Boost efficiency
Add customised words for accurate recognition of the industry terms, acronyms or personal preferences you use every day.
Featured webinar
Learn how to create case notes quickly and accurately.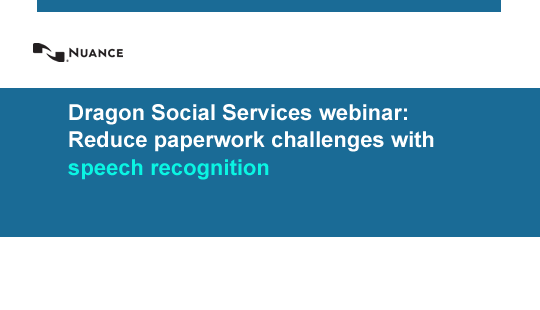 Why attend this webinar?
See how to create documents quickly and accurately
Learn how to increase the efficiency of existing workflow processes
Find out how to dictate notes directly into SACWIS or other case note systems
Improve productivity and customer service
Fill out the form and view the on-demand webinar.

Delaware Division of Family Services
Delaware DFS needed a way to help case workers speed documentation turnaround so they could spend more time in the field helping children and families. Dragon has cut the time it takes case workers to enter their case notes by up to 75%. In addition, using a digital voice recorder for dictating notes in the field allows case workers to boost productivity—even when they're simply travelling to appointments or waiting in court.

Youth Villages, a private non‑profit, is dedicated to helping children and their families live successfully. Youth Villages' 1,600 counsellors and support staff help more than 11,000 children each year from 50 locations across the US. Dragon enables counsellors to dictate notes into a digital voice recorder while on the road and then automatically transcribe those notes to their office PC. Time studies have shown that Dragon reduced family counsellors' paperwork time by as much as 55% compared with typing.
Improve enterprise mobility
Improve documentation and reporting for your mobile workforce
Empower social workers to keep up with documentation demands, even when they are away from their desk. Easily integrate Nuance's cloud-based, professional‑grade mobile dictation solution, Dragon Anywhere Group, into your mobile documentation workflow, and enable mobile professionals to complete documentation requirements in real‑time—by voice—via iOS and Android smartphones and tablets.