Mobilise your workforce with professional-grade dictation
Enable your mobile workforce to complete documentation and reporting work and improve documentation turnaround in the field via iOS and Android smartphones and tablets. Introducing Dragon Anywhere Group, a cloud-based, professional-grade mobile dictation solution for enterprises of all sizes.
Dragon Anywhere Group in action
Improve mobile documentation
Empower field workers, lawyers, social workers, insurance adjusters, public safety officers and other professionals to keep up with documentation demands even when they are away from their desk with Dragon Anywhere Group—a cloud‑based, professional-grade mobile dictation solution for enterprises of all sizes.
Improve mobile productivity
Incorporate powerful professional‑grade dictation into your mobile strategy
The challenge:
For organisations whose employees spend their time in the field or travelling but are still tasked with documentation demands, paperwork backlogs are a unique challenge. Completing detailed and accurate reports can be time-consuming, oftentimes finding employees taking incomplete notes or finishing work back at their desktop or after hours. This can lead to inaccurate reporting and inefficient documentation workflows, not to mention compliance risks. There's a better way.
The solution:
With Dragon Anywhere Group as part of your mobile documentation workflow, mobile professionals can take detailed notes, complete reports of any length, or even fill out forms—all by voice—directly on their mobile device in real time. For more accurate dictation and to meet business-specific needs, Dragon Anywhere Group can be customised with words such as industry terms, as well as custom commands to insert frequently used text or fillable forms. Customisations can be shared across an organisation or the latest versions of Dragon Group desktop products, so work started in the field can be completed back at the desktop seamlessly.
Features and benefits
Go beyond mobile productivity and optimize reporting workflows
Give your mobile workforce the power to get paperwork done wherever their job takes them.
Improve mobile documentation
The cloud-based voice recognition in Dragon Anywhere Group means mobile professionals can dictate continuously without time or length constraints, and with the ability to easily share documents and reports via email or cloud-based sharing apps, such as Dropbox and Evernote.
Improve report detail and specificity
Dragon Anywhere Group delivers optimal recognition dictation accuracy right out of the gate, with no training required. There's no need to decipher handwritten notes or try to recall details from hours before. Employees can dictate in real time to ensure reporting accuracy.
Create form-based templates to speed field reporting
Using Dragon Anywhere's auto-texts feature, field workers can create fillable forms, such as client intake forms, in just a few steps. Once created, they can navigate from field to field using simple spoken commands and fill in all the content by voice.
Work across devices to drive professional productivity
Seamless synchronization across devices or the latest versions of Dragon Group desktop products means mobile professionals can remain productive wherever work takes them. Paperwork can be started in the field and completed back at the desktop, with the same customized dictation experience on any device.
Quick and easy central management
Dragon Anywhere Group includes powerful management tools with the Nuance Management Center, a web-based environment that enables central administration at a user, group, site or organization-wide level.
Enjoy volume discounts with our license program
As part of our Open License Program (OLP), benefit with multiple subscription purchases of Dragon Anywhere Group for your organization and move into higher discount tiers quickly, based on lifetime cumulative purchases.
Custom integration
Speech‑enable your systems with custom integration
The cloud‑based speech recognition in Dragon Anywhere Group can also be integrated into third‑party and custom applications and platforms, such as records or case management systems, keeping preferred interfaces and existing workflows.
Nuance Management Center
Centralized user administration made easy
Too much time spent on inefficient administrative work.
Document backlog and missed deadlines
Inaccuracy and risk of noncompliance
Time/cost of transcriptions
Cost of deployment and maintenance
Inefficient use of time when in the field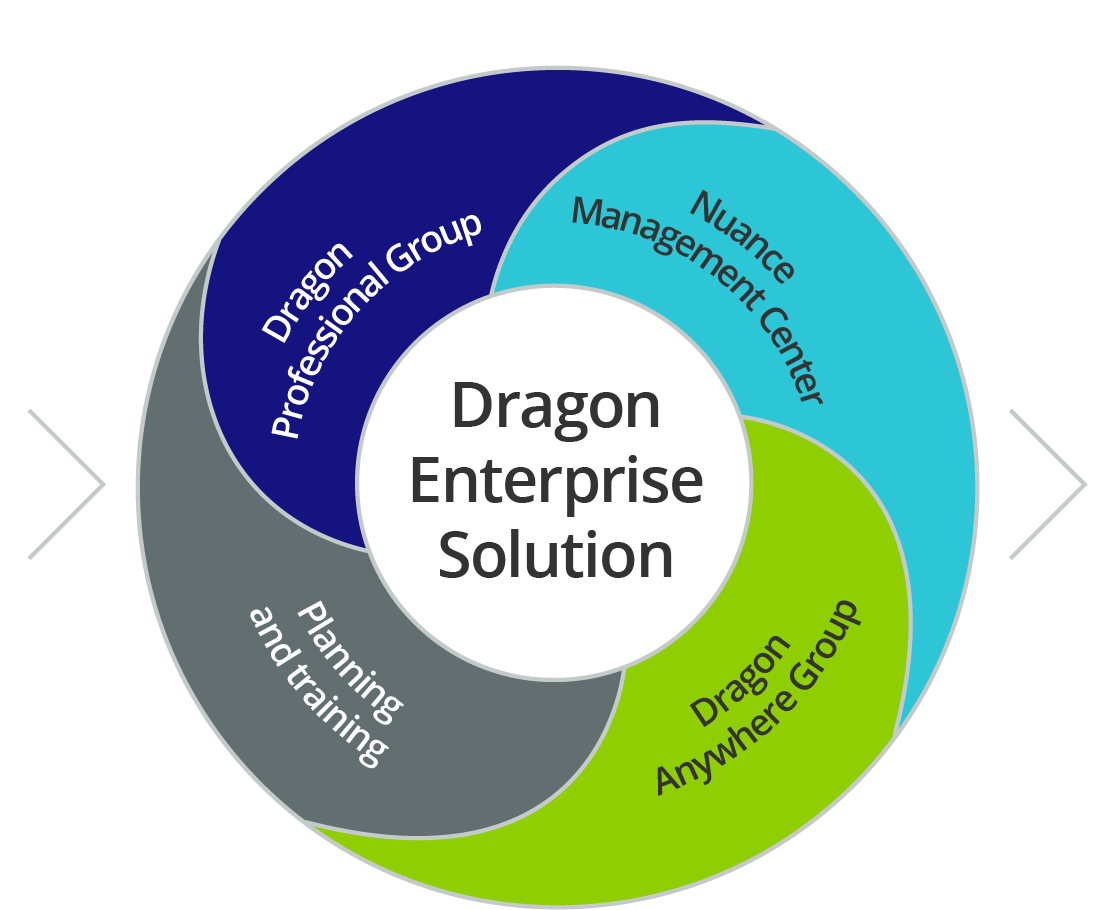 More time to focus on clients or drive your core business.
Increased efficiency and productivity
Improved accuracy and compliance
Reduced transcription time and costs
Efficient, centralized management
Higher documentation productivity when in the field
Nuance Management Center (NMC) makes it easy to track usage and centrally manage licences, user accounts and profiles, administrative settings, and custom words and commands across the enterprise. Dragon Professional Group speech recognition software coupled with NMC and goal-driven project management and services, provides a complete enterprise-ready solution that meets your organisation's specific documentation productivity requirements to improve the corporate bottom line.
Nuance Management Center can easily manage both Dragon Professional Group and Dragon Legal Group licenses, depending on the individual user's needs. An administrator for example, can easily assign or switch a license via a license key, saving time by centrally managing both product deployments as needed.
Volume licensing
Ask about subscription-based, volume licensing programs and put your mobile voice to work.
Talk to us about optimizing mobile documentation across your enterprise with Dragon Anywhere Group.
Contact sales