Get more customers onto the digital channels they prefer
Nuance Voice‑to‑Digital makes it simple to deflect callers to digital channels—so they get fast, effective resolutions, and you get lower contact centre costs.
Put the hold music on hold
Many customers would prefer to resolve their needs on digital channels, when available, rather than call—and none of them want to waste time listening to hold music. But often, they don't even realise digital is an option.
Nuance Voice‑to‑Digital uses AI‑based self‑service and call deflection capabilities to move callers to digital channels that are less expensive for you and more convenient for your customers.
Advanced Natural Language Understanding (NLU) and transcription transform your IVR into a responsive, proactive channel by accurately capturing caller needs and deflecting them to digital channels for faster resolution and an improved experience.
Benefits
Create an IVR that sends customers to better channels
Nuance Voice‑to‑Digital enables you to move callers to lower‑cost channels—the digital channels that many customers would prefer to use anyway.
Increase customer satisfaction
Boost loyalty and customer lifetime value by offering callers immediate assistance that enables them to resolve issues quickly without waiting and reduces queue abandonment. Let customers choose the best option and set the pace of the conversation.
Differentiate your brand
Stand out from your competitors by providing engaging digital experiences that reduce or even eliminate hold times. Provide relevant, personalised offers to customers and help them feel better connected to your brand.
Reduce costs
Increase self‑service adoption and containment, reduce misroutes, and deflect more calls—limiting the need for live agent involvement.
Deliver contextual omnichannel experiences
Seamlessly move targeted users from phone calls to digital channels while maintaining context so customers can pick up where they left off and avoid starting over or repeating themselves.
Improve agent satisfaction
Automate support for straightforward enquiries, reducing call volumes and enabling agents to focus on higher‑value customers.
Support for all IVR platforms
Nuance Voice-to-Digital integrates with your existing IVR—whether Nuance or not—to enable the smooth handover of customers to digital channels.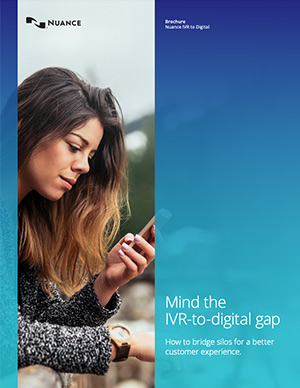 Learn how you can bridge IVR and digital silos to deliver superior customer experiences.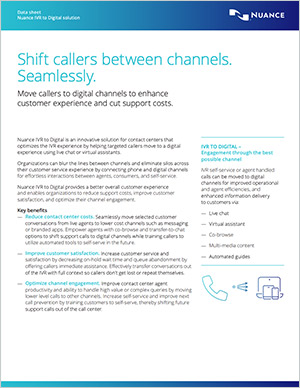 Find out more about all the key features and benefits of Nuance Voice-to-Digital.
Features
What you get with Nuance Voice‑to‑Digital
Shifting callers to digital channels helps keep costs down, but it's also a way to give your customers options—and let them take control over how they engage with your brand.
Voice messaging-to-text
Allow customers to leave a voice message describing their issue, which is transcribed and sent to an agent who can respond later by SMS or email.
Callback management
Give customers the choice to receive a callback, so they can get on with their day instead of waiting for an available agent.
Intelligent IVR prompts
Using AI technology, your IVR can prompt customers to continue the conversation in a digital channel. The IVR can speak a link to a webpage or chat support, or it can send the link by SMS to instantly open up a personalised, two-way chat conversation.
Transition customers to digital channels
Learn how IVR to Digital Solutions can help reduce long hold times and contact centre costs while delivering a better customer experience.