Conversational AI Services
Create innovative customer experiences with open, instant API access to powerful speech and AI technology.
Your customers won't wait
Now more than ever, customers demand convenience. And today, convenience means providing effortless, intelligent, conversational interactions in whatever channel your customers prefer.
But chances are that developing the advanced conversational AI capabilities you need isn't exactly your core business. Luckily, it's ours.
With our APIs, you get open, fast, and flexible access to the cutting-edge AI, speech, and natural language understanding technologies we've spent decades perfecting—without the time, cost, and effort of building them in-house.
Get our latest resources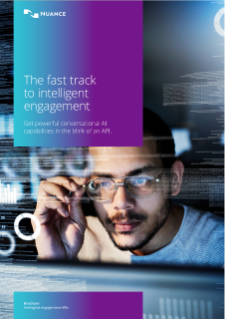 Check out our Conversational AI APIs
Get full details about our speech, NLU, and dialogue APIs for creating conversational AI experiences.
Learn more

(Open a new window)
Build the solutions you need⁠—fast
APIs for Conversational AI Services make our powerful speech engines available to you as open, cloud‑native microservices, so it's even easier and quicker to plug market‑leading conversational AI tech into your customer engagement solutions.
Create standout self-service applications with Speech‑to‑Text (STT) tech that delivers more satisfying customer experiences. Bring the voice of your brand to conversational interactions with advanced Text‑to‑Speech (TTS). And offer effortless customer experiences, using our Natural Language Understanding (NLU) and Dialogue engines to accurately understand what customers want and engage them in a two-way conversation to resolve issues effectively.
Plus, you can take advantage of all the conversational AI capabilities you need, anywhere you want—Nuance-hosted, on‑premises, or hosted by a third‑party cloud provider.
Features
Create intelligent customer engagements
Get instant access to powerful speech and AI technology
We've spent more than 25 years defining the state of the art in speech, NLU, and AI technology. With our APIs, you can ride our innovation wave and quickly incorporate unbeatable conversational AI tech into remarkable customer engagement applications.
Deploy only what you want, exactly where you want it
Exposing the capabilities of our engines as microservices means you can choose just what you need. And we also give you the freedom to choose where you deploy our APIs: we'll host them for you, you can deploy them on‑premises, or you can have them hosted in a third‑party cloud, including Microsoft Azure, AWS, and Google Cloud.
Bring in expertise at any stage
Not every business has conversational AI experts on its staff. So, if you need expert help at any stage, you can get our experienced conversational designers and professional services teams on board to make sure you achieve your customer engagement ambitions.
Benefits
What's in it for you?
Lightning speed
When the pressure's on to meet new customer demands, there's not a moment to lose. Our APIs enable you to act fast and create amazing customer experiences that leave your competitors trailing behind.
Boundless choice
Pay for just the capabilities you need, opening up more options for the kinds of technology you can build into your applications. And deploy our APIs anywhere: our cloud, your cloud—the choice is yours.
Limitless flexibility
Take a modular approach or go all‑in on a full conversational AI suite—our APIs give you the flexibility to create your ideal solution. And you can always call on expert help during any part of your project.
Nuance Mix—Creativity unleashed
Create intelligent IVR, chatbot, and messaging experiences with intuitive tools built on Nuance speech and AI technologies, APIs, and microservices.
Learn more
Ready to get building?
To learn more about how our APIs can help you transform customer engagement, get in touch.