The modern approach to IVR customer self‑service
Add the power of a natural, intuitive self-service conversational IVR that customers will actually use and prefer.
A new type of IVR
Consumers demand faster, simpler ways to engage with companies and resolve issues. Digital platforms like Web and mobile make it easy to self-serve, and continue to raise customers' expectations. However, call volumes remain high as the conversational interactive voice response (IVR) becomes the escalation channel for more complex issues, putting greater pressure on agents and contact center costs.
Older touch-one and directed dialog-based IVR systems with complicated menu trees don't meet the needs of today's savvy consumers. It's time to adapt to this new reality and strike a balance between meeting growing customer expectations and reducing operational costs.
Nuance Conversational Interactive Voice Response (IVR) enables human-like interactions that allow individuals to self-serve and successfully resolve issues within the IVR. It delivers an intuitive service experience that anticipates the caller's needs and enables them to interact with the system naturally, in their own words. Learn how The Modern Voice combines AI-powered speech technologies to enable automated conversations that feel almost human.
Companies that offer a conversational IVR will reduce costs, provide better customer experiences and maximise return on investment.
Want proof? Check out our infographic – "Current State of the IVR"(Open a new window) to see how companies that modernised their IVR perform 75% better in call intent determination.
Get our latest resources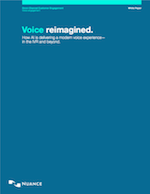 (pdf. Open a new window)

(pdf. Open a new window)
Transform your IVR from a liability into a lifeline
Discover how Nuance's Conversational IVR can help you reduce agent calls, improve call routing and increase customer satisfaction.
Reduce operational costs
Call center executives need to reduce overall call center costs (applications, infrastructure, people) while still meeting customer expectations. Nuance customers use intelligent IVR technologies to address this pressure and achieve the following key benefits:
Improved automation metrics (containment, misroutes) through increased use and effectiveness of self‑service
Decreased call center cost metrics (cost per transaction, AHT) through improved call resolution and deflection
Greater contact center efficiency through improved agent utilization and reduced labor expense
Improved customer experiences
In today's digital world, consumers are able to quickly and easily shift their business to a competitor if they aren't completely satisfied with the service an organization provides. A conversational IVR system delivers an intuitive, self-service experience that consumers will use and offers the following specific benefits:
Higher customer satisfaction leading to improved NPS scores and greater loyalty
Positively differentiated brand perception
Consistent experiences across multiple channels allow customers to engage through any method they choose
Lower TCO and maximise return on technology investments
Businesses and executives make substantial investments in call centre solutions and need to make sure they deliver the right ROI. Nuance customers that invest in our Conversational IVR platform can see the following benefits:
Streamlined costs and investments with technology and support for multiple channels and existing systems
Optimized interactive voice response (IVR) solutions offer insights and improvement over time—increasing efficiency and ROI
Simplified operations and investments by growing with one market leader
Features
Life-like, conversational IVR
A new type of IVR that provides the ability to handle inbound telephone queries through enhanced, human-like interactions.
Natural language-based speech recognition
Advanced speech recognition based on Nuance Recognizer and Natural Language Understanding allows callers to speak naturally in their own words and accurately captures intent—increasing self-service utilization and success.
Intuitive call steering
Call steering technologies get callers to the right place the first time—improving the use of the automated system and reducing the need for live agents.
Personalised, proactive experience
Match phone numbers with existing customer data to proactively identify callers and create a personalized experience that anticipates customer needs and proactively addresses issues—reducing time to completion and need for a live agent.
Cloud and On-Premise offerings
Whether you want the flexibility of the cloud or prefer to manage the interactive voice response software yourself, Nuance offers both Nuance OnDemand and on-premise solutions. Both deliver a full conversational IVR experience while allowing for maximum customer choice and flexibility.
Predictive call handeling
Speed call resolution by using the Nuance Prediction Service to project caller intent and deliver personalized menus or route callers to the right destination faster.
Stats
People prefer improved IVR experiences
73%
Of people agree that if they could converse with the automated phone system as if it were a person, the experience would be improved.
46%
Of people say that IVRs have too many menu options to remember.
Experienced support for exceptional results
Nuance professional services leverage years of experience and thousands of successful deployments to offer thought leadership and commitment to your results. We use the latest tools and techniques to design, develop, deploy and optimise your speech-enabled applications.
Explore professional services
Case studies
Nuon

(pdf. Open a new window)


Hear how Dutch utility company Nuon replaced their touchtone interactive voice response system with a natural language speech interface, improving customer satisfaction and reaping immediate business results.
4 IVRs Customers Love

(pdf. Open a new window)


Read how four organizations modernized their conversational IVRs to drive improved customer satisfaction and cost control.
Telekom Deutschland

(pdf. Open a new window)


Learn how Germany's T-Mobile created an award-winning call center application that drove a 75% increase in automation, successfully automated more than 36 million calls per year and drove $10 million in savings per year.