Intuitive, omnichannel reporting and analytics
Your customers expect excellent service across all channels. Nuance Insights monitors and analyses your omnichannel experiences for improved customer engagement and maximum ROI.
Are your customer service channels performing their best?
Your customers engage with you across many channels. Without the proper view, it is difficult to know exactly how your IVR, VA, messaging, and chatbots are performing. The impact poor performance can have on customer experience and your KPIs is huge.
Your net promoter score, your average handle times and your customer resolution rates all rely on how well your customer service experiences work individually and together. That's why you need effective analytics and reporting to monitor and optimise your customer's omnichannel experience. Nuance Insights delivers all that and more.
Get our latest resources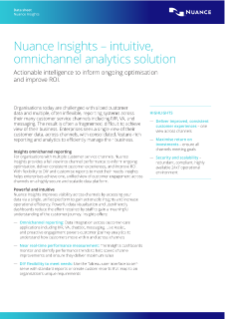 Understand performance across all channels
Nuance Insights is a powerful way to measure how your applications are performing. With detailed analytics and reporting capabilities, delivered with best‑in‑class data visualisation, you can dig deep into how your channels are working, ensure they are supporting customers effectively, and ensure your business is getting the ROI it needs.
Features
Comprehensive data. On any platform.
Omnichannel reporting
Data integration across customer care applications powers omni‑channel, customer journey analytics to understand how customers move within and across channels including the IVR, VA, chatbots, messaging, DragonTV, and applications built with Nuance Mix.
Real‑time performance measurement
The Insights dashboards monitor and identify performance trends over 24 hours to help speed improvements and ensure maximum value to the organisation.
DIY flexibility to meet needs
Use the Tableau user interface to self‑serve with standard reports or customise views that map to an organisation's unique requirements.
Unified design
A common look and feel for reporting across channels—IVR, VA, chatbots, Live Assist, messaging, proactive engagement, and more—allows for ease of use and consistency.
Secure data
The Nuance data platform provides a secure, redundant, compliant, highly available 24x7 operational environment for enterprise platforms, applications, and services.
Scalable platform
Demand shifts are inevitable, and the Nuance data platform has flexibility and capacity available to respond.

Unlimited scalability of data storage and a global footprint enables support for new customer use cases, projects, and volumes faster and more cost effectively.

Organisations will enjoy more storage, processing power and ease compared to on‑premises solutions.
Nuance Mix
Nuance Insights supports applications built with Nuance Mix, our DIY tooling solution, ensuring organisations can build exactly the applications they need and have a full view into their performance.
Learn more
Benefits
Analyse, optimise and visualise
Deliver improved customer experiences
Customers expect easy engagement with the brands they support. Inconsistent experiences across each channel and poor interactions decrease satisfaction and hurt the brand.

Nuance Insights improves visibility across channels by accessing your data via a single, unified platform to gain actionable insights and increase operational efficiency. Powerful data visualisation and user‑friendly dashboards reduce the effort required to gain a meaningful understanding of the customer journey.
Maximise your ROI


Organisations invest heavily in their customer service channels and need to ensure investments deliver expected results.

Nuance Insights provides near real‑time customer journey data for critical insight on application performance and enables optimisation to drive ROI and meet essential KPIs.
Flexibility, security, and scalability


Capacity and scalability in a highly secure and flexible environment are must‑have requirements for enterprise‑grade reporting. Leading brands require highly secure reporting combined with the flexibility to customise reports to meet their unique business needs.

Nuance Insights provides ready‑to‑use reports or the ability to customise them as needed—all with the confidence knowing the data is secure on a highly available, 24x7 enterprise platform.
It's time for a new level of insight in your omnichannel reporting.
Chat with one of our experts today.