AI-based fraud detection for every channel
Stop fraud at the source by identifying and blocking the actual fraudster behind each attack.
Increase security without compromising ease of access
Most fraud prevention strategies add friction to customer experiences or employee workflows and rely on low‑fidelity signals, complex rules, or reactionary analysis.
Intelligent anti‑fraud solutions from Nuance raise the barrier against fraudsters while lowering it for legitimate customers and employees by focusing on the person behind every interaction.
Benefits
Prevent, detect, and investigate more fraud
Secure every customer and employee interaction while uncovering more fraud patterns and attack vectors.
Prevent more fraud losses
Detect fraudsters within seconds of them beginning an interaction to prevent losses before they occur while uncovering and guarding against more attack vectors.
Improve fraud team efficiency
Reduce false positives and improve investigator workflows with biometric fraud prevention, empowering fraud teams to reduce detection delays and spend more time on high‑value cases and other tasks.
Stop fraud at the source
Disrupt fraudster business models by identifying and blocking the actual person involved regardless of the identity or device they hide behind, then gather evidence to aid law enforcement investigations.
Nuance Fraud Nexus
Benefit from unparalleled support from our team of fraud experts and the shared knowledge and experience of your peers. Join the global fight against fraud through the Nuance Fraud Data Share programme.
Real‑world business outcomes
More than 500 enterprises around the world prevent more fraud losses, empower their anti-fraud teams, and contribute to the prosecution of criminals with Nuance.
92%
reduction in fraud losses
95%
shorter fraud
detection delays
Solutions
Intelligent omnichannel fraud prevention
Nuance's AI risk engine layers advanced biometric and non‑biometric fraud detectors to prevent fraud even while streamlining authentication.
Contact centres and IVRs
Detect ANI spoofing, virtualised calls, and other threats pre‑ contact. Identify fraudsters in real-time in the IVR and on live agent calls based on their unique biometric characteristics.
Digital channels
Prevent account takeovers, new account fraud, bots, remote access trojans, and hard‑to‑detect attacks such as social engineering and fraud mules in mobile, web, and messaging channels.
Employee fraud
Prevent hand‑offs, unauthorised access, and other internal fraud by continuously verifying employee identities and detecting fraud signals in employee behaviour and language.
Account recovery
Protect your business from account takeovers and data breaches by replacing vulnerable one‑time passcode‑based account recovery with fast, secure voice authentication.
Unauthorised reseller fraud
Stop unauthorised reseller fraud by efficiently uncovering, investigating, and blocking the fraudsters calling into the contact centre based on their inherent biometrics.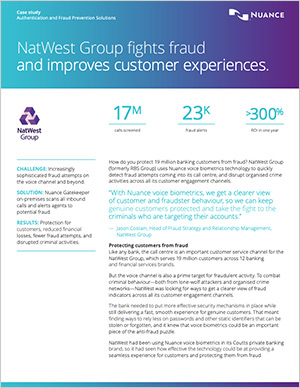 Learn how NatWest uses Nuance to detect fraudsters and disrupt organised crime activities across all its customer engagement channels.
White paper
Biometrics for telecoms
Discover how telecommunications companies can simultaneously reduce friction in customer authentication processes and prevent fraud across all customer care channels.
Learn how you can stop more fraud and handle more cases with intelligent fraud prevention solutions.