Invest in better customer experiences
Whether you need to level‑up your digital experiences, turn your IVR into an intelligent self‑service channel, or provide the ultimate in fraud prevention, Nuance AI for financial services solutions have you covered.
Trusted to deliver by financial services leaders
Nuance enterprise‑grade, AI solutions for financial services solutions offer superior self-service and human‑assisted experiences across voice and digital channels—with integrated fraud prevention and authentication from advanced, multimodal biometrics.
That's why 19 of the 20 largest financial institutions in the world* choose Nuance to help them deliver personalised, frictionless, and secure customer experiences.
*Excluding China
Benefits
Proven AI solutions. Proven business impact.
Nuance helps financial services organisations worldwide meet growing customer demands for speed, convenience, and protection—whether they're transferring funds, resetting a password, or checking on a suspicious transaction.
Deliver superior omnichannel experiences
Provide innovative customer experiences in every channel to boost loan, card, and investment applications, increase CSAT, and reduce churn. Build sustainable competitive advantage by offering every customer the effortless, conversational experiences they expect, however and wherever they choose to engage with you.
Streamline authentication and prevent fraud
Eliminate the friction of PINs and passwords by using voice, behavioural, and conversational biometrics to authenticate customers based on who they are, not what they know or have. Proactively identify fraudsters before they can strike—protecting your customers, mitigating losses, and helping fraud teams detect, prevent, and investigate more fraud.
Improve efficiency and reduce costs
Increase self‑service automation and empower agents with AI‑based insights and product and dialogue recommendations to reduce average handle time, improve first contact resolution, and increase conversions. Use powerful analytics and reporting to identify opportunities to optimise customer journeys.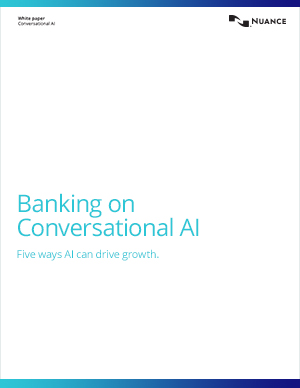 Banking on conversational AI: five ways AI can drive growth
Voice interfaces powered by conversational AI are becoming the preferred way for many customers to interact with financial institutions.
Real‑world business outcomes
60%
increase in call deflection with Nuance Virtual Assistant
66%
reduction in AHT with improved authentication
87%
first contact resolution with Nuance Virtual Assistant
300%
ROI from reduced fraud losses
Dedicated to credit unions and their members
Nuance solutions for credit unions has the tools and expertise to create members for life.
Better digital banking experiences, faster.
Deploy a superior digital customer experience in as little as four weeks with Nuance Banking Essentials for chatbots and virtual assistants. Using industry‑specific intents and proven experience, this AI‑based platform integrates with your data, enabling you to provide personalised responses on any channel and escalate to live chat as needed.
Get the data sheet

(pdf. Open a new window)