The most natural way to authenticate: Biometric authentication using speech
Nuance FreeSpeech authenticates a caller in as little as six seconds, just by listening to their normal conversation. No passwords, no PINs. What could be easier?

Get our latest resources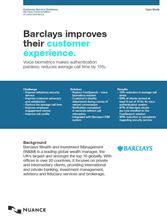 (pdf. Open a new window)

(pdf. Open a new window)
Happy customers, happy agents
Customers prefer biometric authentication to PINs/passwords and especially challenge questions. Call centre agents dislike having to switch from customer service to security expert when they have to question the customer to prove who they are. Agent satisfaction and longevity are improved by removing customer authentication from their job requirements.
Do more with fewer agents
When agents are no longer spending time challenging customers to prove who they are, their average handle time drops. Historically, companies can see between 30 seconds and two minutes of improvement on every call. These minutes add up fast.
Stop fraud in its tracks
FreeSpeech listens in to the conversation and compares to the speaker's voiceprint, and a verification result is then transferred to the CTI, agent workstation or CRM system in a matter of seconds. The captured voice is also compared to a fraudster voiceprint blacklist. Fraud teams can add known voiceprints to this database and even collaborate with other companies to create a master blacklist.
85%
of users are frustrated with existing authentication
90%
of users prefer voice biometrics over the status quo
84%
of people say they are more concerned about their online privacy and security today than they were a year ago
Features
A natural security solution
Nuance FreeSpeech authenticates a caller in as little as six seconds, just by listening to their normal conversation.
Authentication without interruption
FreeSpeech is a text-independent, passive customer authentication platform used in a call centre. It verifies a caller's identity during the first few seconds of a natural conversation with a contact centre agent and compares this to the voiceprint that is stored in the database. It does this in seconds without interrupting the call. It can do this in any language, with any accent and call quality, regardless of the content of the call. It completely eliminates the need for PINs, passwords and security questions when a caller is interacting with an agent in a call centre.
State-of-the-art biometrics
FreeSpeech ensures that fraudsters can't spoof the system and voiceprints can't be used if stolen, keeping customers secure from fraud. This system looks for anomalies in gender, liveness and caller consistency and will generate an alert if it finds synthetic speech or a recorded voice. Even professional voice imitators can't fool our system.
Continuous improvement
FreeSpeech continually updates voiceprints by using new audio to update existing voice templates and automated enhancement of voiceprints based on the analysis of failed authentication attempts by legitimate users. FreeSpeech maintains an accurate voiceprint, even with changing background noises and voice tones that shift with age.