Engage your mobile customers on their terms.
Smartphones are everywhere – which means your customers can do business anywhere. Nuance Customer Service Messaging helps you deliver a seamless and secure brand experience.

Messaging done right
Worldwide mobile and tablet internet usage exceeded desktop for the first time in November 2016*. As your customers reach for their mobile devices more often, be ready to engage them across mobile channels – mobile browser, SMS, branded and messaging apps – with a seamless customer experience.
Be there for your customers in their mobile moment of need. Nuance Customer Service Messaging helps you deliver an effortless engagement that ensures an immediate response to any enquiry your customers may have, while enabling them to connect with you on their terms. Connect the dots for your customers by integrating automated and human-assisted conversations happening in messaging apps like Apple Business Chat and Facebook Messenger, via SMS or inside your app into your omni-channel strategy.
Nuance makes it easy for you. Our platform ensures a consistent engagement experience for your customers through any channel they choose. Integrated analytics are powered by AI to deliver measurable insights along the entire customer journey.
Enable messaging and authentication for both text and voice based engagements for higher customer satisfaction and lower contact centre costs.
* Stat Counter Global Stats
Get our latest resources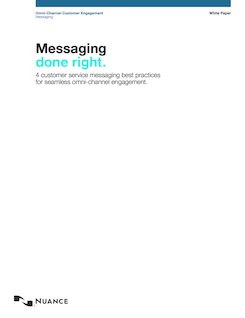 (pdf)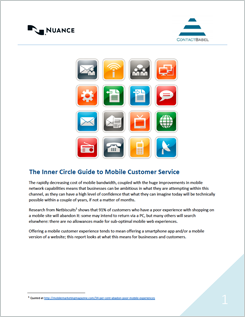 (pdf)
Messaging+
It is important for your customers to engage with you on their terms. Nuance Customer Service Messaging combines real-time and asynchronous interactions, automated and human assisted engagements, voice biometrics authentication and much more to deliver an always-available assistance for high CSAT and reduced contact centre costs.
Simple authentication
Instead of having to remember and type passwords or PINs, Nuance mobile technology allows your customers to authenticate themselves by simply talking to their smartphone or taking a selfie.
Strong brand experience
Nuance can help you deliver the same design experience on desktop and mobile browsers, SMS and mobile apps, building a stronger brand and a more trusted interface with a personality your customers are already comfortable with. Simplify the way your customers engage with your brand through designs that work within the limited real estate of a smartphone.
Move callers to digital
Organisations can blur the lines between channels and eliminate silos across their customer service experience by connecting phone and messaging channels for effortless interactions between agents, consumers and self-service.
Products
How to succeed in an "always-on" world
Learn how Nuance Customer Service Messaging can help you connect with customers, anywhere and everywhere.