Just say why you're calling and get straight through
Make navigating your call centre as easy as using your voice with a natural language solution that lets customers use their own words to describe why they're calling. Nuance Call Steering routes callers without the need for infuriating menu mazes.
Improve call centre performance
Consumers demand faster, simpler ways to engage with companies and resolve issues. Traditional touch tone-based IVRs can't offer the experiences callers receive from other channels. Forward-thinking companies are enhancing their IVR with natural language technologies to provide a modern IVR experience. Nuance Call Steering is the front door to a new Conversational IVR solution – and the first step in creating a memorable customer experience that whisks callers quickly to where they need to be.
Call steering utilises Natural Language Understanding and advanced dialogue strategies. Customers can say anything they like and not be constrained by fixed menus that don't meet their needs. Call Steering offers a more natural way to engage the IVR and increases customer satisfaction, shortens call times and improves overall call centre metrics.
Want proof? Check out our infographic – "Current State of the IVR"(Open a new window) to see how companies that modernised their IVR perform 75% better in call intent determination.
Get our latest resources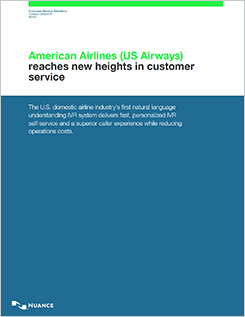 (pdf. Open a new window)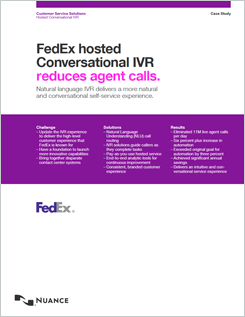 (pdf. Open a new window)
Stats
See how our product stacks up
400%
Increase in completed calls in a Healthcare company
40%
Reduction in misroutes in Telecom firm
54%
Reduction in improvement in automation in Financial services company
Improved customer experiences
Callers can say goodbye to complicated menu mazes and hello to an intuitive natural language interface that guides them to the right destination with more accuracy and in less time.
Reduce operational costs
Call Steering reduces contact centre costs by shortening call times, reducing the number of misrouted calls and improving overall call automation rates.
One point of contact
By drastically reducing menu complexity, call steering allows organisations to consolidate multiple customer service phone numbers into one self-service application.
Features
The leading natural language solution
Call Steering offers a more natural way to engage the IVR and increases customer satisfaction, shortens call times and improves overall call centre metrics.
Leading Natural language technology
Nuance Call Steering utilises our flagship Natural Language Understanding and Automatic Speech Recognition technologies to deliver an enhanced caller experience.
SmartListener
Drastically improve recognition accuracy by correctly recognising a large proportion of out-of-grammar inputs with high confidence and applying the learning across every dialogue in the speech application.
Proven expertise
Nuance is experienced in implementing call steering solutions around the world and across major industries. With deep understanding of customer trends and business challenges, we deliver value where it counts most.
Cloud and On-Premise offerings
Whether you want the flexibility of the cloud or prefer to manage the IVR yourself, Nuance offers both Nuance OnDemand and on-premise solutions. Both deliver a full conversational IVR experience while allowing for maximum customer choice and flexibility.
Solutions & technologies
Steering your contact centre to better performance
Conversational IVR
Call Steering is the front door to our conversational IVR solutions – and the first step in creating a memorable customer experience by getting callers where they need to go quickly and efficiently.
FastStart Approach
FastStart Approach delivers commonly required functionality in a fraction of the time and at a reduced cost compared to a custom-built Call Steering application.
Call Steering package
The Call Steering package allows partners to deliver Call Steering applications without a PhD in speech science. It includes the Call Steering runtime application and access to the cloud-based Call Steering portal.
Call Steering portal
This cloud-based portal is built for creating, deploying and optimising Call Steering solutions. As a standalone tool, it allows customers to take ownership of tuning and maintaining their Call Steering application.
Experienced support for exceptional results
Nuance professional services leverage years of experience and thousands of successful deployments to offer thought leadership and commitment to your results. We use the latest tools and techniques to design, develop, deploy and optimise your speech-enabled applications.
Explore professional services

(Open a new window)
Videos
BB&T
Hear BB&T discuss their goal of delivering the perfect client experience, how they became engaged with Nuance and the benefit of the relationship.
Nuon case study and video
Hear how Dutch utility company Nuon replaced their touchtone IVR with a natural language speech interface, improving customer satisfaction and reaping immediate business results.
Talk Talk
See how Talk Talk reduced time spent in the IVR by 25% and cut call costs by 10% per year thanks to natural language call steering.