Imagine easily and routinely driving follow‑up adherence
Support follow‑up recommendation management with AI‑driven automation that closes the loop on patient follow‑up. PowerScribe Follow-up Manager allows the department to show more value to the entire care team, and even recoup revenue attributable to follow‑up studies performed.
Improve follow‑up on incidental findings
mPower Clinical Analytics with PowerScribe Follow‑up Manager has helped move UR Medicine Thompson Health toward consistent communication of follow-up recommendations and significantly increased exam completion.
"Our vision is that every patient deserves their best chance for a cure, and with this Backstop program and the Nuance tools, we're clearly making a difference," says Dr. Ben Wandtke, Medical Staff President and Chief of Diagnostic Imaging, UR Medicine Thompson Health, and Associate Professor, Department of Imaging Sciences, University of Rochester Medical Center.
Get our latest resources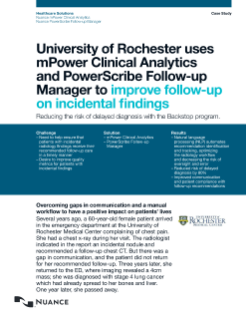 Case study: UR Medicine Thompson Health
Learn how mPower Clinical Analytics and PowerScribe Follow‑up Manager drive follow‑up on incidental findings and improve patient outcomes at UR Medicine Thompson Health.
Download now

(pdf. Open a new window)
Features & benefits
Close the loop on patient follow‑up
Help mitigate liability risks associated with failed patient follow‑ups and generate new revenue opportunities from additional recommended studies.
Support improved patient outcomes
Adopt an efficient, proactive approach to communicating follow‑up recommendations.
Gain visibility into program performance
Leverage robust dashboards and detailed analytics.
Facilitate patient follow‑up
Harness AI for automatic, intelligent detection and extraction of recommendations.
Reduce potential liability
Avoid missed or delayed diagnoses that can lead to poor patient outcomes.
Enable improved financial outcomes
Support better follow‑up compliance and increased case volume.
Key solutions
Improve radiology efficiency and reduce burnout
Technology should help you work smarter and stay focused, avoiding the disruptions and distractions that take your eyes away from the image. When routine tasks are automated and workflow is streamlined, you can focus on the critical work of image interpretation and accurate, quality reporting.
Discover how Nuance solutions harness AI to transform radiology
Watch as radiology thought leader Jonathan Messinger, MD, discusses how AI can transform radiology reporting and make radiologists an integral part of the patient care process.
Brochure: Nuance Diagnostic Solutions
From failed follow‑up and inconsistency of recommendations to inefficient work practices and burnout and beyond—see how Nuance's game‑changing innovations in AI and cloud‑powered technology help you meet these challenges head‑on.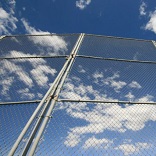 Blog post: A Backstop that reduces risk of delayed diagnosis
PowerScribe Follow‑up Manager automates a collaborative approach to close the loop on patient follow-up recommendations, helping improve both clinical and financial outcomes. By enabling access to consolidated, actionable data, effectively managing patient follow‑up is possible.