Workflow integrated AI for imaging stakeholders
The Nuance Precision Imaging Network (PIN) is the only network of its kind and built on proven diagnostic imaging solutions used in 80% of radiology reports. With more than 10,000 connected healthcare facilities, it uses workflow integrated AI to deliver real‑time clinical intelligence to multiple imaging stakeholders.
Key stakeholders
One platform delivering value to multiple stakeholders
Nuance PIN offers a large portfolio of workflow integrated AI applications while leveraging proven diagnostic imaging solutions to provide critical information for personalized care decisions that increase efficiencies and lower healthcare costs.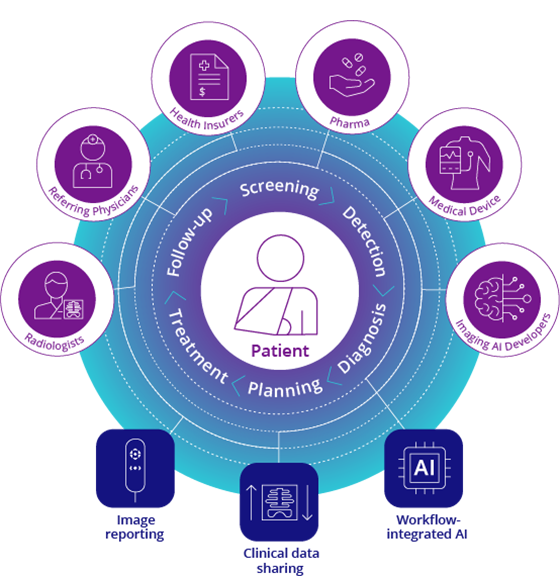 The Infographic illustrates a connected network of circles representing the Nuance Precision Imaging Network (PIN), which is a scalable, AI-powered cloud solution that delivers persistent performance while connecting point-of-read to point-of-care across a single, secure platform. The Precision Imaging Network integrates AI solutions that can add significant value to radiologists, clinicians, health systems, and their patients by helping detect and diagnose disease early, access advanced treatment options, measure treatment effectiveness, and complete recommended follow-up care.
Provides simplified access and connectivity to AI services with intelligent workflow integration that minimizes repetitive and mundane tasks and prioritizes key clinical findings, improving patient care.
Enables the ability to apply AI‑generated insights from diagnostic imaging to support earlier diagnosis and more informed treatment decisions while improving operating efficiency and throughput.
Improves payer‑provider collaboration to positively impact quality and cost, while enhancing care coordination using shared clinical data.
Delivers more informed use of precision therapeutics and companion diagnostics by qualifying patients eligible for life‑enhancing treatments and clinical trials more quickly and efficiently.
Produces robust AI image information creating valuable patient selection evidence for receiving a particular device or treatment, delivering better patient care, and improving quality of life.
Offers a single API to connect AI models with imaging stakeholders via proven Nuance radiology applications.
Features and benefits
Connect point‑of‑read to point‑of‑care across a single, secure AI‑powered network
Nuance PIN combines the power of proven AI with access to vast image sharing and detailed image reporting to help solve the most pressing issues in patient care.
Improve disease detection and classification
Enhance diagnostic and treatment capabilities.
Provide image enhancement and quantification
Predict and quantify the progression of disease to support more informed treatment decisions.
Enable more informed clinical decision support
Ensure the right follow‑up recommendations are consistently made.
Drive compliance through patient follow‑up and engagement
Augment ability to track patients across the care journey.
Access advanced analytics
Improve cost control and workflow optimization while expanding facility network integrity.
AI spotlight
Learn more about how these innovative companies are working with Nuance to bring AI into the clinical workflow.
Olympus SeleCT™ QCT Analysis uses Nuance PIN to increase access to Spiration Value Therapy
The SeleCT Connect™ program is a collaboration between Nuance, Olympus, and Imbio, which streamlines and optimizes the screening process used to identify emphysema patients who may be candidates for Spiration Valve Therapy.