Transform the radiology reading experience with PowerScribe One
Welcome to the next generation of radiology reporting. An all‑new, user‑centric design and countless workflow enhancements make PowerScribe One a game‑changer. It harnesses AI, cloud‑powered speech and language understanding technology, and real‑time structured data to bring you new levels of accuracy, quality, and performance.

Overcome inefficiencies, inconsistent recommendations and failed follow‑up.

Nuance delivers an unrivaled radiology reading experience with PowerScribe One
See how PowerScribe One delivers the radiology reading experience of the future. A modern design and color palette combines ambient, conversational AI, advanced speech processing, structured data extraction, workflow automation, and real time data synchronization to improve radiologist satisfaction and patient care.
What's new in PowerScribe One
Purpose‑built and redesigned from the ground up
PowerScribe One has been completely redesigned with you in mind. A new look and feel—with a more intuitive and visually harmonizing user interface—delivers an unrivaled reporting experience. And our advanced AI‑driven capabilities, powered by the cloud, augment and automate your workflows to drive improved accuracy, quality, and efficiency. Cloud‑hosted speech and language processing provide unparalleled recognition and accuracy while eliminating the need for local profile training and maintenance.
Reduce fatigue
Simplified, modernized look and feel
New dark mode harmonizes with the radiology reading environment
De-cluttered layout makes navigation easier; see what you need when you need it
In‑line notifications and alerts minimize distractions
Improve quality
Intuitive functionality and information access
Advanced language understanding technologies drive automated decision support
"In‑report" notifications and advice help minimize errors and inconsistencies
Smart Assist provides users with a dynamic checklist of alerts and suggestions
Combat burnout
Streamlined, time‑saving workflows
Extracts structured data to populate reports and reduce manual data entry
Provides prioritized access to relevant prior reports
Leverages conversational AI and virtual assistant technologies to query data from the EMR and PACS
Future proof
Modern cloud‑powered architecture
Supports remote and mobile reporting with cloud speech
Reduces IT footprint and maintenance costs
Streamlines updates and delivery of enhancements
Positions organization for future innovations
Feature highlights
Countless capabilities, all included and designed for you
Ambient Mode
Automatically turn free‑form dictation into organized, structured reports
Virtual Assistant
Harness the power of voice‑enabled workflow control and information retrieval
Smart Assist
View real‑time checklist of alerts and notifications
Cloud Speech
Eliminate profile training and management and optimize remote access options
AI Findings
Integrate AI workflows through Nuance AI Marketplace
EMR Follow-up
Automate delivery of follow‑up recommendations to EMR and other systems
Clinical Guidance
Incorporate real‑time, in‑workflow decision support based on report context
Heads Up Display
Keep your eye on images with translucent movable window with key information
Benefits
Using AI to drive workflow efficiency and reporting accuracy
PowerScribe One harmonizes applications radiologists use every day and makes AI useful and usable within the workflow. By improving efficiency and accuracy, it gives radiologists more time to focus on what matters most—the care teams and patients they serve.
Increase provider satisfaction through streamlined processes that augment and automate the reporting workflow.
Increase productivity and accuracy by auto‑populating reports, reducing errors, and minimizing redundancy.
Enhance communication across the enterprise by intelligently sharing discrete data between systems, users, and platforms.
Improve follow‑up consistency and patient care with AI‑driven, automated guidance and quality checks that drive evidence‑based clinical decisions and support MIPS initiatives.
Streamline operations with easier deployment, more timely updates, and access to innovations via a secure, cloud‑based environment.
The Power of One
Harness the latest advances in AI and cloud technology to deliver value
The power of structured data and conversational AI
PowerScribe One uses continuous learning and context‑aware language understanding technology to convert unstructured text into structured data that expands interoperability and powers a new generation of data‑driven applications. New Ambient Mode and Virtual Assistant capabilities harness the power of voice‑enabled workflow control to automatically turn free‑form dictation into organized, structured reports, and easily retrieve relevant information.
The power of integration
Benefit from deep integrations through Nuance PowerCast, an extension of the proposed HL7 FHIRcast industry standard. Synchronized integration between PowerScribe One and the disparate PACS and EMR systems radiologists use every day enables real‑time, two‑way data-sharing. This new capability also enables integration with other third-party systems and AI services offered through the Nuance AI Marketplace.
The power of AI-driven workflows
With PowerScribe One, AI services are uniquely integrated into the radiology workflow to improve efficiency and throughput, increase diagnostic accuracy and specificity, and ensure consistent, evidence‑based follow‑up recommendations.
The power of cloud technology
PowerScribe One's advanced AI capabilities are hosted on Microsoft Azure so organizations can benefit from the security, reliability and operational advantages of a trusted cloud hosting infrastructure.
AI Marketplace for Diagnostic Imaging
Integrate the latest AI services with PowerScribe One
The Nuance AI Marketplace for Diagnostic Imaging is a one‑stop‑shop that enables subscribers to easily try and buy AI services that integrate with PowerScribe One. Unlike other AI platforms, marketplaces and exchanges, Nuance offers the largest storefront of AI imaging services integrated directly into the radiology reporting workflow, and includes a collaborative feedback channel to help developers continuously refine their apps based on real‑world use, research, findings and results.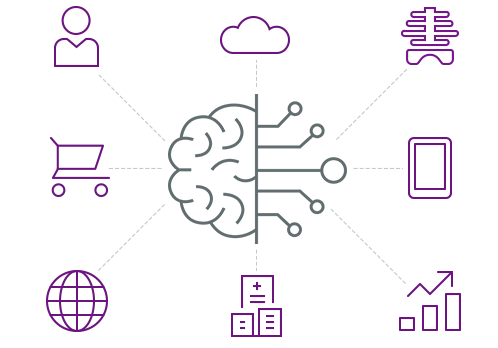 Complementary solutions
Solutions for expanded functionality
Get even more value with workflow orchestration, communication, image sharing, analytics, and performance solutions.
Diagnostic Workflow and Reporting
Achieve unparalleled levels of workflow efficiency, accuracy, and consistency.
Contact us to speak to a diagnostic solutions specialist today.