Measure performance. Demonstrate value.
Easily retrieve actionable information and derive insights from a variety of data sources with mPower Clinical Analytics. This robust, cloud‑based solution will help your team more efficiently and effectively monitor, understand and improve financial and clinical performance.

mPower Clinical Analytics HealthCheck
Using AI‑powered natural language processing (NLP) to extract data from radiology reports can reveal insights that lead to practice improvements and combat radiologist burnout, while delivering more value and better care.
Get our latest resources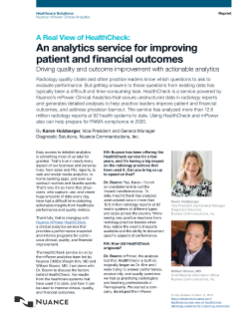 (pdf. Open a new window)
Benefits
Access actionable insights to optimize radiology performance
As the healthcare environment evolves, so does the role of imaging. The shift to value-based models means you need to play a more active role within the patient care circle—and keep a more watchful eye on outcomes. With mPower Clinical Analytics for radiology, your team will have access to actionable insights that can help you optimize radiology performance, drive adoption of valuable AI technologies, reduce risk of failed follow-ups, reduce costs, and increase revenues—all while enhancing patient care.
Improve outcomes
Get better visibility into clinical and financial outcomes so you can monitor, understand, and ultimately improve clinical quality, patient safety, and financial performance.
Accelerate AI adoption and validation
Leverage clinical analytics to extract data and build custom data sets in your own environment—before and after AI adoption—to help evaluate algorithm relevance and accuracy.
Streamline reimbursement
Avoid common reporting errors. Nuance mPower Clinical Analytics identifies laterality and report consistency errors that can lead to delayed reimbursements.
Improve follow-up consistency and compliance
Profile your radiologists' compliance and consistency in recommending follow‑up care. Drive performance improvement efforts and help ensure patients return for recommended follow‑ups.
Features
Get a complete picture of your imaging department
Our NLP‑driven, cloud-based platform will deliver meaningful analytics that you can use to profile your performance across relevant metrics. This information will help drive initiatives that make a real difference in your clinical and business outcomes.
Quality analytics, no matter how you slice it
Drive high quality clinical care and improve patient safety using Nuance mPower Clinical Analytics. Provide a foundation for data-driven practice management, quality improvement, and clinical performance.
Manage metric reporting efficiently
Whether you want to keep up with Government requirements, recommendations from the American College of Radiology, or your hospital's policies, mPower Clinical Analytics gives your teams valuable visibility into quality metrics including MIPS measures, critical test result communication compliance, and more.
Analyze the past—and improve the future
Curious to know how often laterality and gender mismatches occur? mPower analyzes your reports to pinpoint where, when and by whom, so you can implement targeted quality improvement initiatives to minimize medico-legal risk, as well as reduce costly rework that leads to burnout.
Track and communicate follow‑up recommendations
Using proprietary natural language processing, mPower Clinical Analytics automatically extracts follow‑up recommendations from reports and identifies overdue examinations. Ensuring appropriate follow-up imaging will improve patient outcomes and reduce your liability risk.
Quantify contributions to value‑based imaging
Your radiology department's success depends on being able to contribute to improved outcomes. mPower Clinical Analytics manages imaging appropriateness, decision support and image quality. Empower your practice managers to develop an efficient organization that profitably delivers high quality clinical care.
Extract measurement data from narrative reports
mPower's cloud platform includes expanded AI‑driven tools that enable quantitative analysis to help reduce delays in care, address over‑and under‑imaging, evaluate MIPS measures, and bolster quality improvement efforts.
AI Marketplace for Diagnostic Imaging
Accelerating the development, deployment and adoption of AI for radiology
The industry's first and only two‑sided network for diagnostic imaging, the Nuance AI Marketplace for Diagnostic Imaging offers AI developers the ability to connect to the 70 percent of radiologists and the 6,500+ healthcare facilities already using Nuance's PowerScribe radiology reporting and PowerShare image sharing network.

80% of the time consumed in most AI and machine learning projects has to do with data preparation. As you explore the potential of AI algorithms, leveraging mPower clinical analytics can extract data for comparison before and after algorithm adoption—giving you the insights you need to more efficiently evaluate an algorithm's accuracy and value in your own environment.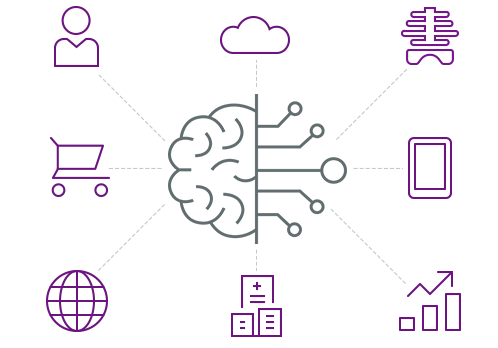 ---
Integrated solutions
Enhance mPower Clinical Analytics for medical imaging
Add‑on solutions further increase the value of your investment in mPower Clinical Analytics for medical imaging.
Case study: UR Medicine Thompson Health
Learn how mPower Clinical Analytics and PowerScribe Follow-up Manager drive follow-up on incidental findings and improve patient outcomes at UR Medicine Thompson Health.
Case study: Summa Health
Read how Summa Health in Akron, Ohio used mPower Clinical Analytics to automate and improve processes for detection and follow-up of ED patients presenting with incidental lung nodules.
---
Working together to deliver value through improved business and clinical outcomes.
Contact us to speak to a specialist today.