Measure performance. Demonstrate value.
Easily retrieve actionable information and derive insights from your data with cloud‑hosted mPower Clinical Analytics. Harness powerful AI to efficiently and effectively monitor, understand, and improve financial and clinical outcomes—delivering more value to the care teams you serve.
Benefits
Access actionable insights
Uncover information that can help you optimize radiology performance, drive adoption of AI technologies, reduce costs and risk of failed follow‑ups, and increase revenues—all while addressing burnout and enhancing care.
Improve outcomes
Monitor, understand, and improve clinical quality, patient safety, and financial performance.
Accelerate AI adoption
Easily create data sets to support AI model development, testing, and performance validation.
Streamline reimbursement
Identify mismatches and inconsistencies that can lead to incorrect or delayed reimbursements.
Address follow‑ups
Drive process improvement efforts to consistently recommend follow‑up care and track compliance.
Combat burnout
Design policies and procedures that streamline operations, improve efficiency, and boost satisfaction.
Facilitate outcomes reporting
Have tools to effectively and efficiently monitor, document, and communicate key metrics.
Features
Get a complete picture of your department
Harness powerful analytics to make a measurable difference in service and quality.
Slice and dice your data—for insights that matter
Arm your team with information that's accessible, understandable, and actionable.
Manage quality measure and KPI reporting
Gain visibility into results communications and MIPS/ACRad quality measures.
Analyze the past—and improve the future
Get meaningful insights that reveal strengths and pinpoint areas needing intervention.
Quantify contributions to value‑based imaging
Manage imaging appropriateness, decision support, and report quality.
Obtain quantitative measurement data
Extract and analyze discrete measurements from narrative report text.
Harness cloud‑powered technology with confidence
Leverage the security of a HITRUST CSF‑certified and SOCII compliant solution.
Value differentiators—by the numbers
Only Nuance offers the data superiority and industry‑leading, AI‑driven language understanding to deliver unparalleled analytics accuracy, precision, and reliability—at scale. Our advanced technologies have created one of the largest radiology‑specific data sets in the world—for analytics you can trust and a solution you can use.
20+ years of expertise in speech and language understanding technology
1 billion+ reports processed to drive unmatched algorithm accuracy and precision
10 years of experience delivering easy‑to‑use radiology analytics at scale
4 follow‑up recommendations per report can be extracted and tracked
120 algorithms to identify and track critical result compliance
$669K average missed revenue opportunities per site, based on HealthCheck analyses
15 discrete lesion measurements can be tracked and analyzed for a variety of finding types
14 MIPS and ACRad quality measures can be tracked for quality reporting and monitoring
200+ published, peer reviewed research papers used mPower for data mining
Integrated AI services through the Precision Imaging Network
Seamlessly integrate AI services directly into workflow to minimize repetitive tasks, improve efficiency, and deliver deeper clinical insights. Enable radiologists to detect disease earlier and faster, streamline care coordination, and support positive patient outcomes.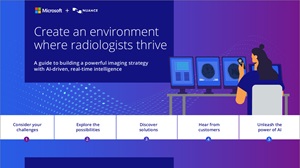 Learn how mPower supports an environment where radiologists can thrive. View the eBook to see how AI‑driven, real‑time intelligence can help radiologists automate what they can't stand, surface what they can't see, and identify what they can't miss.
Listen how Nuance solutions drive findings identification and follow-up to improve patient outcomes at Carle Health System.
Complementary solutions
One partner, one platform
Extend the value of radiology across an AI‑powered network that drives performance and outcomes.
Working together to deliver value through improved business and clinical outcomes.
Contact us to speak to a specialist today.