Ease the burden of lung cancer screening management
A successful lung cancer screening program can help detect the disease in its early stages, before symptoms arise, when more treatment options are available and chances for survival are higher. With PowerScribe One Lung Cancer Screening, an end‑to‑end solution from Nuance, you can reduce workload, automate workflow, and screen and track high‑risk patients.

Learn how Saint Joseph Mercy Health System implemented their lung cancer screening program.
Benefits
Effectively manage an end‑to‑end lung cancer screening program
Optimize program management
Ease the management of mandated screening steps, including documentation of encounters and results communication.
Use powerful custom fields to ensure complete data capture, including Lung‑RADS scores and results, as well as incidental findings communication.
Connect program navigators to patients enrolled in the program, with proactive alerts and prompts for appropriate next steps.
Connect with the
ACR
Integrate with the ACR Registry for automated upload, including historical data input.
Why Nuance
Optimizing outcomes with results‑driven workflow
Nuance Healthcare Diagnostic Solutions support clinical outcomes analysis, facilitate the transition to value based care models, and enable the shift toward Imaging 3.0™. From end‑to‑end workflow and reporting to analytics and image‑sharing innovation, Nuance solutions help promote efficiency and quality, and improve overall patient care.
View webinar
Lower mortality rates with PowerScribe Lung Cancer Screening
Watch this informative webinar with Dr. Vita V. McCabe and learn how the revolutionary Lung Cancer Screening program at Saint Joseph Mercy Health System works today.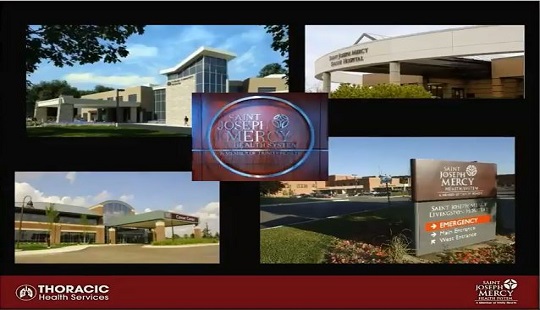 Featured resources
Ease the creation and ongoing management of a lung cancer screening program with the industry's most proven end‑to‑end solution.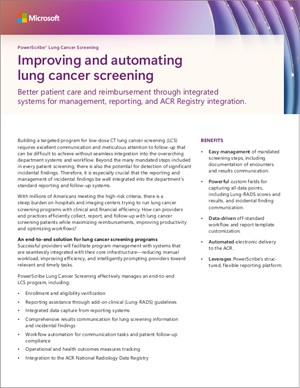 PowerScribe Lung Cancer Screening
Learn how Nuance PowerScribe Lung Cancer Screening improves and automates program management for better patient care and reimbursement.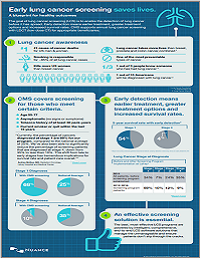 Early lung cancer screening saves lives
Effective lung cancer screening programs are powered by intelligent, comprehensive, end‑to‑end software solutions that manage the unmanageable and ensure patients don't slip through the cracks.