Provide an intelligent workflow control center
Provide a holistic diagnostic experience that goes beyond the worklist with PowerScribe Workflow Orchestration. Connect disparate systems and increase efficiencies, enable consolidated access to patient images and information across multiple sources, and elegantly manage integration across desktop applications.

Learn how Texas Children's Hospital optimized radiology workflow and balanced workload distribution.
Go beyond the worklist
Marla B. K. Sammer, MD, shares how PowerScribe Workflow Orchestration is helping Texas Children's Hospital achieve their long‑term goal of creating an environment where radiologists can thrive.
Benefits
Drive workflow efficiencies across organizations, systems, and users
Optimize reading efficiency
Create flexible worklists that encompass data from multiple sites, systems, and points of service.
Intelligently distribute workload across specialty and sub-specialty, optimize resource utilization and streamline interruption management.
Create an integrated reading environment
Manage integration, authentication, and contextual synchronization with your PACS, EMR, viewers and departmental IT systems.
Improve the patient care process
Prioritize exams, increase access to more complete patient data and accelerated turnaround times.
View webinar
Pediatric radiologist Marla B. K. Sammer, MD, discusses PowerScribe Workflow Orchestration
Marla B. K. Sammer, MD shares how Texas Children's Hospital optimized radiology workflow and balanced workload distribution for one of the country's top ranked children's hospitals with Nuance PowerScribe Workflow Orchestration.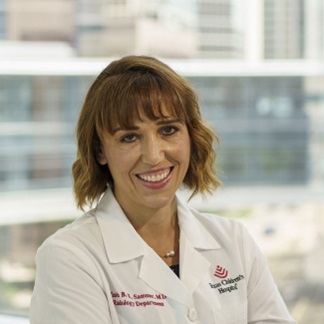 Featured resources
Nuance PowerScribe Workflow Orchestration effectively manages even the most complicated multi‑site, multi‑specialty environments.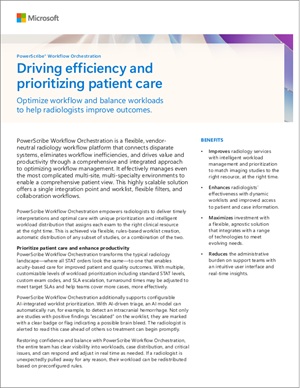 Data sheet: PowerScribe Workflow Orchestration
Learn how to leverage the vast potential of PowerScribe Workflow Orchestration with a proven solution that drives results with optimized reading efficiencies, increased productivity, and a synchronized reading environment to accelerate patient care delivery.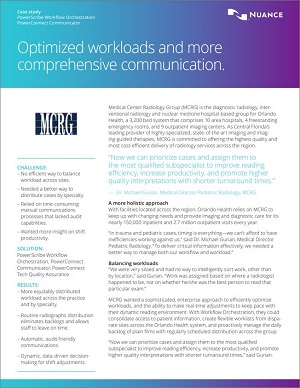 Case study: Medical Center Radiology Group (MCRG)
MCRG took an enterprise approach to optimize workloads and keep pace with a dynamic reading environment. Read how MCRG used PowerScribe Workflow Orchestration to consolidate access to patient information, create flexible worklists from disparate sites across the Orlando Health system, and proactively manage the daily backlog.