More insight. Faster action. Better customer experiences.
Get crystal clear visibility in your contact center
Your customers have more choices—and bigger demands—than ever before. To keep them coming back, you need to deliver personalized, effortless customer experiences. But to do that, you first need to understand what your customer interactions really look like, across every channel.
Nuance omni‑channel reporting, monitoring, and analytics tools provide the real‑time visibility and insight you need to deliver the frustration‑free experiences customers demand while keeping contact center costs down, boosting agent performance and operational efficiency and mitigating risk.
Get our latest resources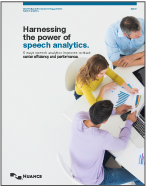 (pdf. Open a new window)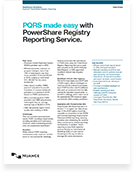 (pdf. Open a new window)
Nuance Analytics
Understand every customer interaction
Nuance Analytics delivers sophisticated customer analytics to help you optimize experiences while reducing contact center costs and risk. Our packaged, easily customizable solutions analyze 100% of customer interactions across all engagement channels to give you clear, visual insights into trends, outliers, opportunities and your most important contact center KPIs.
Armed with actionable insights into the entire customer journey, you can make fast, confident decisions about the best ways to improve the customer experience and enhance contact center efficiency. And with automated agent performance monitoring and scoring, you can build a high‑performing contact center team and reduce compliance risk.
Nuance Insights
Make your IVR work harder
Nuance Insights provides IVR application performance monitoring and reporting, so you always know if your IVR is delivering the business value you need.
Advanced analytics and speech application reporting give you a powerful way to measure and improve IVR performance and ROI, get fast and actionable insights to the people who can make a difference, and minimize operational and data security risks.
Analytics use cases
Find your contact center analytics use cases
How can analytics help your contact center deliver better business outcomes?
From increasing contact center efficiency and improving agent performance to minimizing risk and protecting against fraud, there's a broad range of proven use cases for customer interaction analytics.
And with the expertise and experience of our Professional Services team, we can help you customize omni-channel analytics use cases for the specific needs of your organization.
The power of data, loud and clear
82%
of online customer service interactions result in a phone conversation.
68%
of customers cite poor customer service as the reason they churn.
89%
of customers explore competitor options due to poor service.
Sources (left to right): Forrester, ZenDesk, Harris Interactive Customer Experience Impact Report, Five9
Start transforming your customer experience.
Want to see what customer interaction analytics can do for you?