Unify customer service to engage on all digital channels with one platform.
Nuance Social Media Engagement enables brands to engage with consumers in social networks for always-on customer service across the entire journey.
Effortless social media engagement
Not only do consumers use social networks to connect with friends and family, they also use them to engage with the brands they love. Gartner estimates that 90% of businesses will use social media for customer service by 2020*.
Social media monitoring software allows brands to understand what consumers are talking about, but they create yet another silo within the digital customer engagement. Consumers don't think in channels and expect the same assistance anywhere, at any time.
Nuance Social Media Engagement broadens the reach of brands to listen to consumers in social channels, engage with them on their terms and seamlessly transfer conversations to any other channel as and when needed. Unified analytics augment the view of the customer journey and ensure that actionable insights can be implemented across a succesful omni-channel engagement.
Get our latest resources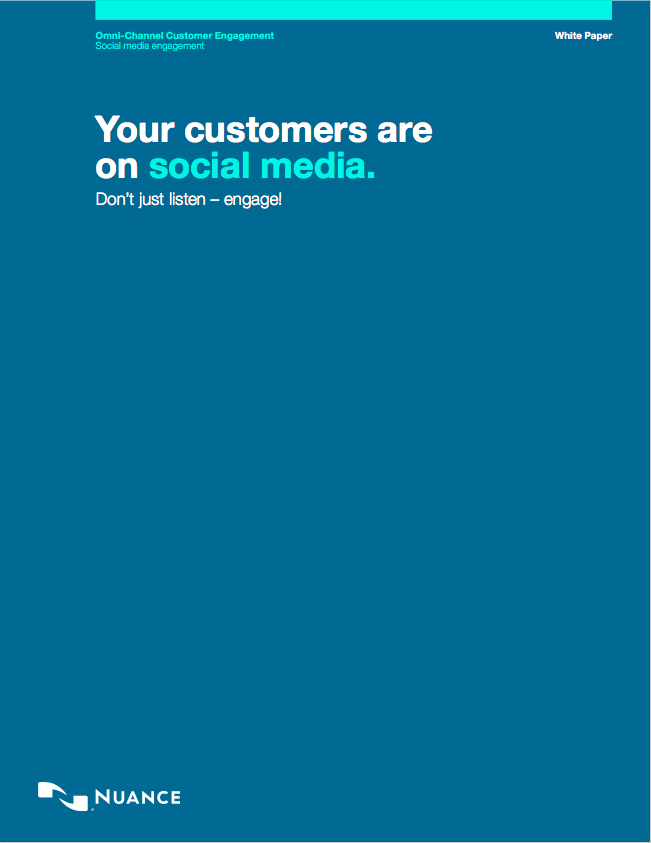 (pdf)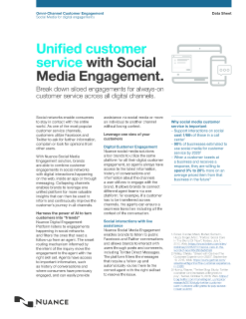 (pdf. Open a new window)
Solutions & technologies
Engage your customers with always-on customer service.
Nuance social media monitoring solutions allow brands to utilize the same platform for all their digital customer engagement so live agents always have access to the latest information, history of conversations and information about the channels a user utilizes to engage with the brand. It allows brands to connect different agent teams via one platform. For example, if a customer has to be transferred across channels, the agents can ensure a seamless transition including all the context of the conversation.
Nuance Social Media Engagement enables brands to listen to public Facebook and Twitter conversations and allows brands to interact with users through posts and comments, including Twitter Direct Messages. The platform filters the messages that require a follow up and automatically routes them to the correct agent with the right skillset to resolve the issue.
A combination of interpreting hashtags and mentions, checking for prior engagements and understanding the actual intent of the question allows our platform to intelligently decide where the incoming message should be routed.