Nuance Transcription Engine
Discover accurate, automatic multi-speaker audio transcription.
Find the real value in conversational audio.
More than ever, organizations are mining their audio data for insights, looking for new ways to improve customer experience, boost workforce efficiency, protect against fraud and ensure regulatory compliance.
But without fast, accurate transcription, you can't guarantee you're getting the most value from your audio data. With Nuance Transcription Engine built in, your technology can achieve so much more, whether you're delivering message transcription, conference call transcription or speech analytics solutions.
Get our latest resources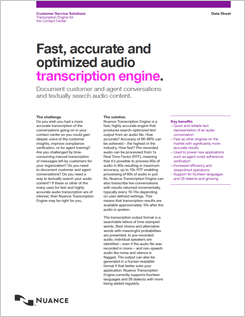 (pdf. Open a new window)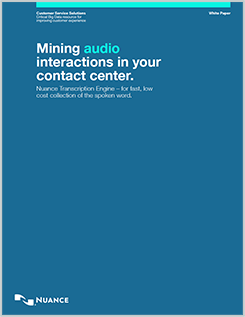 (pdf. Open a new window)
Automatic multi-speaker identification
Nuance Transcription Engine can recognize and transcribe up to six individual speakers—ideal for complex audio such as conference calls and business meetings.
Support for 43 languages
Our team is constantly working on expanding the range of languages and dialects our engine covers, so your solution can deliver global coverage without the need for multiple transcription services.
Output in two formats
Nuance Transcription Engine can output into the written word or into search-optimized lattice formats, giving you access to instantly-usable insights and fully-searchable digitized archives.
Customizable language models
Tailor the engine to work with specific applications using specialized vocabulary tools that can identify product names or people's names.
Fully time-coded and stamped
Every line of the transcription is fully time-coded and stamped, giving clear, accurate data about who said what—and exactly when.
Find the hidden value in conversational audio
With highly accurate real-time transcription, you can dig into both pre-recorded and live audio and find the hidden insights that help improve the customer experience, work more efficiently, and reduce operational costs.
Fast, flexible implementation
With different modes to optimize for speed or accuracy, and the ability to integrate directly with your existing products and workflow, you can set the engine up to deliver exactly what your solution demands.

There are flexible deployment options too, so you can choose usage or process-based licensing, and on-premises or cloud deployment—whatever works best for you.
Build a global solution with a single engine
With support for 43 languages—and more in development—you can build a solution with worldwide coverage, all powered by a single, trusted engine.
Spotlight on: NTE for Speech Analytics
Speech analytics solutions for contact centers are growing in popularity, as organizations look for ways to find more value in their customer interactions. Whether you're building a full analytics solution as an OEM, or developing your own workflows in-house, NTE gives you fast, accurate transcription—and a vital source of data for discovering new insights.
Combined with Nuance FreeSpeech and Nuance Fraudminer, you can add biometric security and advanced fraud detection to your speech analytics solution, too.
88%
accuracy—among the highest in the industry.
43
languages and more in development
Want to learn more?
Chat with one of our friendly experts today, and we'll help you bring fast, accurate transcription to your solution.