Putting words to work with AI‑powered speech recognition
Empower your employees to create high quality documentation.
Meet our professional productivity solutions
GROUP/ENTERPRISE PRODUCTIVITY

Save your organization time and money with Dragon Professional Anywhere, AI‑powered speech recognition that integrates into enterprise workflows.

Empower attorneys to create high‑quality documentation and save time and money with Dragon Legal Anywhere, cloud‑hosted speech recognition that integrates directly into legal workflows.

Enable officers to safely and efficiently meet reporting and documentation demands with this customized solution.

Drive productivity at work and create and transcribe documents, short-cut repetitive steps—by voice.

Seamlessly create, edit and transcribe legal documents by voice for improved efficiency, costs.

Complete documents wherever work takes you with the cloud‑based, professional‑grade mobile dictation solution.
Your words mean business—make them count
Our "always latest," easy to deploy cloud-hosted speech recognition solution integrates seamlessly into enterprise workflows and is optimized for thin‑client and virtualized environments. Securely create mission‑critical documentation wherever you need to be when you extend Dragon Professional Anywhere with Dragon Anywhere Mobile, included at no additional cost.
Empowering productivity at home and at work
From students to authors to small business owners, individuals are doing much more in less time with Dragon. There's no job too big—or too small—for speech recognition that takes the work out of paperwork.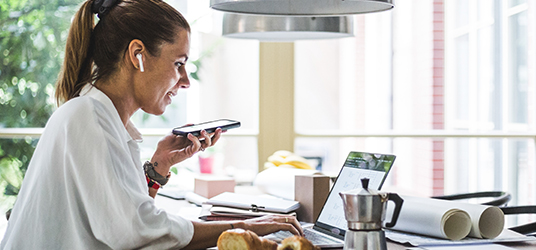 The ideal speech recognition solution for home use, Dragon Home empowers families and everyday multi‑taskers to get more done on their PCs with voice. From memoirs to homework to emails and internet searches, Dragon takes the stress out of self expression, delivering transcription 3x faster than typing, with optimal accuracy.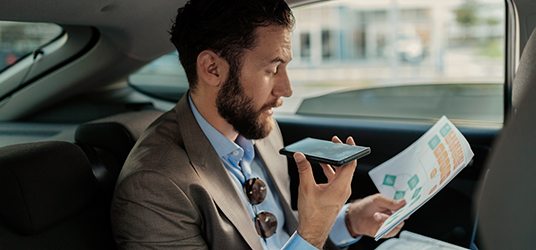 Our next‑generation speech engine leverages Deep Learning technology to enable 3x faster, more efficient dictation and transcription, so you can save time and money by focusing on business, not documentation. This highly customizable solution shortcuts repetitive steps and delivers optimal recognition accuracy when creating everything from e‑mails to presentations.
Discover the Dragon difference
See how seamless documentation can be with industry‑best speech to text.
Superior speed and accuracy
Creating critical work documentation has never been easier with voice recognition 3x faster than typing and up to 99% accuracy—no voice profile training required. By capturing information at the speed of thought—and at the point of interaction—busy professionals are able to reproduce details with specificity and immediacy that may be lost when transcription requires retrospective typing at 40 wpm or less.
Comprehensive security
To ensure the security of your data, our cloud solutions feature 99.5% uptime and run on geographically dispersed, active‑active data centers hosted on Microsoft Azure, a HITRUST CSF certified hosting infrastructure. All solutions align with industry‑standard frameworks and all data is encrypted with 256‑bit encryption, both in transit and at rest
Unparalleled flexibility
Our cloud‑hosted solutions ensure Dragon customizations synch across your devices. When used in combination with other cloud‑native solutions like Office 365, tasks begun in one location can be finished in another. If you add a unique Auto‑Text in in Dragon Anywhere Mobile, it is synchronized in the Windows client (Dragon Professional Anywhere), so your work keeps pace with your busiest days.
Compliance and confidentiality
For health and human services professionals that encounter Personal Health Information (PHI) in the course of their jobs, rest assured that our Windows client (Dragon Professional Anywhere) supports HIPAA requirements for security and confidentiality in public sector settings such as social services, employing secure encryption methods throughout the workflow to safeguard all communication, documentation, and data.
Find the Dragon that speaks to your needs
Optimized for diverse professions and accessible to everyone, Dragon makes overachievement inevitable.
Need help? We've got you covered.
Volume licensing
Built for teams, built for the enterprise. Ask about flexible licensing programs with no seat counts or auditing.
Contact sales