Focus on your business—not paperwork
As a busy professional, a good part of your workday may be spent on paperwork—creating reports, writing presentations, sending emails, taking notes in the field, and more. Get more done faster simply by speaking with Dragon speech recognition, the best productivity software for business.
Meet our professional productivity solutions
GROUP/ENTERPRISE PRODUCTIVITY

Dragon Professional Anywhere
Save time and cut costs with highly scalable, professional‑grade AI speech recognition that integrates seamlessly into enterprise workflows. Easily deployed and "always latest," this robust, cloud‑hosted productivity tool is optimized for thin‑client and virtualized environments.

Dictate detailed, accurate briefs and other documents 3x faster with cloud‑hosted, AI‑powered speech recognition that integrates directly into legal workflows. Empower firms and legal departments to create high‑quality documentation simply by speaking, accelerating billing productivity and saving time and money.

Safely create rapid, detailed incident reports in the field by voice, dictating hands‑free into the RMS or other applications. Highly customizable and up to 3x faster than typing, this solution protects officers, reduces documentation‑related burnout, and gives departments more time to devote to community policing.

Dragon Professional Individual
Professional‑grade and highly customizable, our robust speech recognition solution delivers optimal accuracy while creating 3x faster documentation and streamlining repetitive steps.

Increase productivity and expedite client documentation turnaround time. Highly customizable speech recognition with legal‑specific language models delivers optimal accuracy, 3x faster documentation, and automatic legal citation formatting.

Extend Dragon's range with our cloud‑hosted, professional‑grade mobile dictation solution. Compatible with iOS and Android devices, Dragon Anywhere Mobile can be purchased individually or is added to Dragon Professional Anywhere at no additional cost.
See Dragon at work
Let Dragon work for you
Speed through documentation
Fast dictation and high recognition accuracy that continually improves as it adapts to your voice.
Dictate anytime, anywhere
Integrate with the separate, cloud‑based Dragon Anywhere for Android and iOS mobile devices, and dictate and edit documents wherever your job takes you.
Short‑cut repetitive tasks
Define simple voice commands to short-cut repetitive processes, speed up document creation, and boost your productivity.
Boost efficiency
Add customized words for accurate recognition of the industry terms, acronyms or personal preferences you use very day.
Boost productivity
Simplify documentation demands
Tasks like writing emails, scheduling meetings, or updating reports can easily consume 1/3 of your workday. Dragon puts your voice to work for increased productivity and efficiency:
Speed through document creation—3x faster than typing
Use voice commands for recurring tasks
Give your wrists a rest and reduce repetitive stress injuries
Save valuable time
Make every second count
Visiting customers, attending events, and traveling from meeting to meeting may leave you saddled with a backlog of paperwork. With Dragon and a digital voice recorder, it's easy to capture notes on the go—while the details are still fresh in your mind—for later transcription.
No more scribbling notes on paper
Save time and eliminate expensive transcription costs
Get work done no matter where the job takes you
Featured webinar
Learn how Dragon works for business
We all want to work faster and smarter, and productivity software like Dragon speech recognition can help. View this informative webinar to learn how Dragon can help improve your productivity-and reduce costs-all by voice.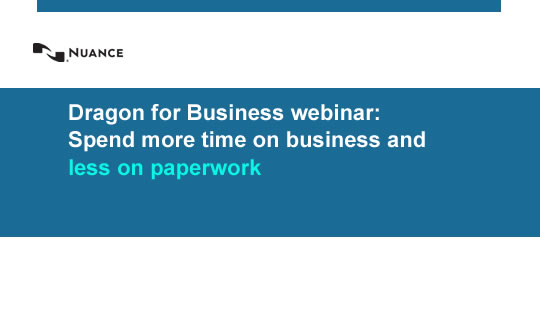 Why attend this webinar?
See a fast and efficient way to create documents using your voice
Learn how to speed up data entry, form filling, email communication, and more
Find out how to capture notes-anytime, anywhere-for later transcription
Discover a more comfortable, less taxing way to use your computer
Fill out the form and view the on-demand webinar
Talk to us about increasing the productivity of your small business with speech recognition